Hu winds up Southeast Asian visit
By Qin Jize (China Daily)
Updated: 2005-04-29 00:03
MANILA: President Hu Jintao concluded his nine-day tour of three Southeast Asian nations and left Manila for Beijing yesterday.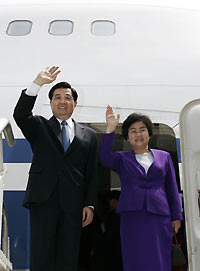 President Hu Jintao and wife Liu Yongqing waves farewell at the Manila Airport, April 28, 2005. [Xinhua]
Hu started his tour in Brunei and Indonesia, where he attended the Asia-Africa Summit and the commemoration of the 1955 Bandung Conference. The last leg was the Philippines.
Prior to boarding his chartered plane home, the president addressed a luncheon hosted by the local Chinese community, at which he spoke of bilateral trade and economic relations having reached an unprecedented high level.
Co-operation in the field of agriculture, fishing, infrastructure, mineral resources development and tourism have been fruitful and he is confident that the goal of bringing the annual two-way trade volume beyond US$30 billion before 2010 can be achieved.
Chinese hybrid rice and corn are now planted in wider areas in the Philippines and the Chinese-contracted Northrail project is now underway, a symbol of the friendly bilateral relations and co-operation which exists between the two, remarked Hu.
On Wednesday, the Chinese Government agreed to provide a US$500 million loan for the construction of a section of railway which will link Manila with provinces in northern Luzon. The line will greatly advance development of the economy of Luzon Island and its neighbouring areas.
China provided a US$420 million preferential buyer's credit for construction of the first section of the first phase of the railway in 2003 and the project is now being implemented.
More importantly, Hu noted, the two countries have taken the lead in launching joint development of the South China Sea, a valuable step on the friendship and co-operation front.
The Philippines and China signed an agreement for joint marine seismic undertaking in the South China Sea last September, with Viet Nam joining this March.
On Wednesday, the second day of his three-day state visit to the Philippines, Hu also met with the head of the Asian Development Bank (ADB) in an effort to expand co-operation between the two sides.
Hu suggested expanding the scope of credit loans from infrastructure, the current major item, to China's agriculture, public health, education and environmental protection.
His two other proposals are: Expanding co-operation on regional development, including the Greater Mekong sub-region and co-operation between China, Japan, the Republic of Korea and ASEAN members; enhancing co-operation on poverty reduction and development programmes in the developing countries.
Loans and technical assistance by the ADB have greatly supported China's economic development and infrastructure construction.
"China will push forward its reform and opening up policy and pay great attention to co-operation with international financial institutions," Hu said.
(China Daily 04/29/2005 page2)
Today's Top News
Top China News

Now, pandas could make maiden trip to Taiwan




Parties pledge to work for Straits peace




Foreign companies ignoring labour laws




May Day weekend threatened by duststorms




Tsang: Mutual trust essential for HK




Amended Securities Law protects investors