Syrian forces quit Lebanon after 29 years
(Agencies)
Updated: 2005-04-26 16:18
Syria completes the withdrawal of its forces from Lebanon on Tuesday in line with a U.N. resolution, ending 29 years of direct involvement in its tiny neighbor.
The last Syrian soldier will pull out from Lebanon after a military ceremony in the Riyyak airbase in the eastern Bekaa Valley, a day after Syrian intelligence quit its headquarters in the town of Anjar, security sources said.
Syrian troops entered in 1976 to try to end Lebanon's civil war which began in 1975. But it was not until 1990 that the Lebanese war ended, after Syrian forces fought separately with Muslim and Christians militias, Lebanese army units, Palestinian guerrillas and the Israeli army.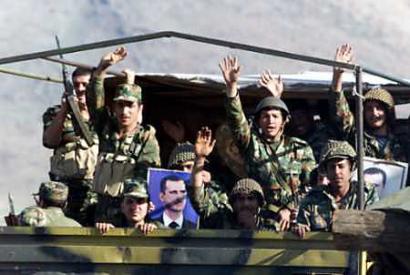 Syrian army troops, displaying a picture of President Bashar al-Assad, wave from a truck driving towards the Lebanese-Syrian Masnaa border, in the Bekaa valley April 25, 2005.[Reuters]

Pro-Syrian Lebanese officials say 12,000 Syrian soldiers were killed in Lebanon and many more wounded.

Syrian military and intelligence dominated Lebanon since the 1975-1990 civil war and until a U.N. Security Council resolution last September demanded a total Syrian withdrawal.

The Feb. 14 assassination of former Prime Minister Rafik al-Hariri, blamed by many Lebanese on Damascus, triggered large anti-Syrian protests in Beirut and piled the pressure on Syria to quit.

Syria's intelligence chief in Lebanon, Rustum Ghazaleh, left for Damascus on Monday but was to return on Tuesday for the farewell ceremony.

Security sources said only about 200 Syrian soldiers remained in Lebanon, but they would withdraw after taking part in the ceremony, hours before the United Nations issues a report on whether Syria is complying with the Security Council demand.

WASHINGTON SCEPTICAL

But the United States, which led international pressure on Syria to withdraw from Lebanon, was skeptical.

"It's clear that Syria has been withdrawing its military forces from Lebanon," State Department spokesman Adam Ereli told reporters in Washington. "This process isn't complete either (on) the military forces or the intelligence assets."

Lebanon's election due in May would test whether Syria still intervened in the affairs of its smaller neighbor, said one U.S. official, who asked not to be identified.

Lebanon's new government, led by Prime Minister Najib Mikati, has pledged to hold free and fair elections on time in May. Parliament starts a two-day meeting on Tuesday to discuss the new government's policy statement and vote it into office.

Syria had vowed to go by April 30 but will be out four days early. U.N. chief Kofi Annan overrode U.S. objections to delay a report on Syria's progress for a week until Tuesday, when a U.N. verification team will arrive in Damascus.

The team hopes to obtain maps of Syria's former positions and reports on the status of its military and intelligence presence in Lebanon, a U.N. official said. The team then travels to Lebanon, where it is to verify the Syrian withdrawal.

As the last Syrian military and intelligence units pulled out, Lebanon's Syrian-installed security apparatus showed signs of crumbling on Monday with the resignation of the country's most powerful security chief allied with Damascus.

The pro-Syrian head of Lebanon's General Security department Jamil al-Sayyed resigned, saying: "Security chiefs are usually appointed with politics and change when it changes."

The chief of police, Ali Hajj, last week put himself at the disposal of the interior minister, effectively stepping down.




Today's Top News
Top World News

KMT leader: Taiwan needs to blaze new trails




China: EU textile move could harm trade ties




Families grieve, 73 dead in Japan train crash




Yen rallies, bet is on China revaluation




Economic growth expected to slow down




Olympic venues to be opened for public use