Yen rallies, bet is on China revaluation
(Agencies)
Updated: 2005-04-26 10:23
The yen surged to a two-month high against the euro and a one-month high against the dollar on Monday as speculation intensified that China might soon revalue its currency.
The euro was the biggest loser. In afternoon New York trade, the single currency was at 137.20 yen, not far above a two-month low and down about 1 percent from late Friday.
Any revaluation of the Chinese yuan, which has been pegged near 8.28 to the dollar for the last decade, is expected to spark a broad rally in Asian currencies.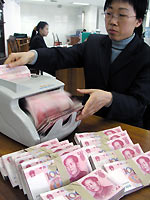 A cashier counts notes with machine in a bank in Jiangsu Province, April 25, 2005. [newsphoto]
Buying yen is a popular proxy bet on a near-term move by China, and investors have snapped up the Japanese currency since U.S. officials last week stepped up calls for China to unlink its currency.
In a flurry of comments over the weekend, Chinese officials said the country was better prepared to loosen its currency peg, although they did not give a time frame.
"What pulled the yen up today was a general Asia story: comments to the effect that China might speed up their progress toward accommodation on the currency. That started the session off with the yen and other Asian currencies on a very strong footing," said Anne Parker Mills, head of foreign exchange research with Brown Brothers Harriman in New York.
On Sunday, Wei Benhua, the deputy chief of China's foreign exchange regulator, said the country would "positively but prudently" speed up reform of its currency peg.
Earlier, Zhou Xiaochuan, China's top central banker, told Reuters there were no serious political or technical obstacles to revaluing the yuan.
U.S. and European officials have long argued that China's yuan is undervalued, giving Chinese exporters an unfair advantage on world markets.
If China's yuan rose against the dollar, that would allow other Asian central banks to relax efforts to artificially weaken their currencies against the dollar and still keep their exports competitive with China's.
EURO THE BIGGEST LOSER
Against the dollar, the euro was down 0.6 percent at $1.2984.
The dollar fell to a one-month low around 105.46 yen in Asia according to Reuters data. But electronic foreign exchange broker EBS showed the dollar fell as low as about 105.26 yen, traders said. In afternoon New York trade, the dollar was buying 105.66 yen.
Dealers cited a raft of reasons for the euro's weakness, including a disappointing German business confidence survey and persistent worries over the implications of a "no" vote in France's referendum on the EU constitution next month.
The Ifo institute's gauge of German business confidence fell for a third consecutive month in April, hitting its lowest in more than 18 months in a sign of continued weak economic growth. The headline index slipped to 93.3 from 94.0 in March.
"The Ifo was specific bad news for the euro zone" and could hint at an economic downturn, said Parker Mills.
SAFE AS U.S. HOUSES?
The dollar got a modest bounce against the euro after U.S. March existing home sales were reported at a 6.89 million annualized rate, slightly higher than economists' forecasts of a 6.80 million pace.
The U.S. economic data flow gets heavier later this week with reports on consumer confidence, durable goods and the PCE price index, the Federal Reserve's favored inflation gauge. A reading of first-quarter U.S. gross domestic product should also be of interest to dollar traders, although analysts are already starting to mull prospects for the second quarter.
For that period, "expectations are starting to warm up to the idea that the U.S. is slowing. There is room for downward (growth) surprises still in the United States and upward surprises in Japan and Europe, given how much bad news is priced in there," said Jason Daw, a senior G10 foreign exchange strategist with Merrill Lynch in New York.
Today's Top News
Top World News

KMT leader: Taiwan needs to blaze new trails




Families grieve, 73 dead in Japan train crash




Yen rallies, bet is on China revaluation




Economic growth expected to slow down




Olympic venues to be opened for public use




Draft interpretation under discussion