Families grieve, 73 dead in Japan train crash
(Agencies)
Updated: 2005-04-26 10:03
Rescuers pulled three people alive from the wreckage of a Japanese commuter train early on Tuesday as weeping relatives arrived at a makeshift morgue to identify loved ones among at least 73 people killed in Japan's worst rail accident in four decades.
Investigations into the cause of Monday's accident were focusing on the speed the crowded train was traveling when it jumped the tracks in the suburbs of the western city of Osaka and smashed into an apartment building shortly after rush hour.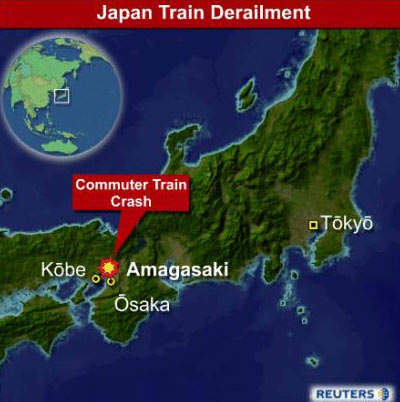 Orange-clad rescue workers appeared to be preparing to use large cranes and construction machinery to right the crushed and overturned front carriages.
Police said it was not clear if anyone remained inside.
Television showed a man crouched and weeping outside the gymnasium where the bodies of the dead were taken.
"I thought he would be alive in a hospital somewhere," a woman who lost her son told public broadcaster NHK.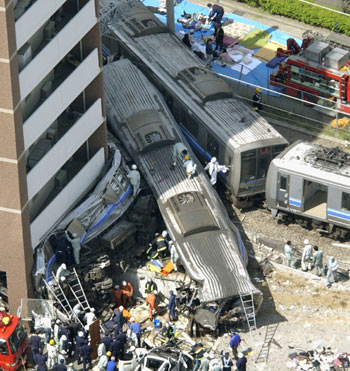 A commuter train derails in Amagasaki, Japan April 25, 2005. [Reuters]
"I only saw him last night and I never dreamed I would be parted from him today."
Police will search the offices of line operator West Japan Railway Co. (JR West) later on Tuesday on suspicion of professional negligence, Kyodo news agency reported.
Two women and a man were pulled alive from the crumpled carriages between midnight and about 7 a.m. (1800 EDT) on Tuesday. More than 150 of the 440 injured in the crash were in a serious condition, police said.
Investigators said the cause of crash was still unclear, but survivors among the some 580 passengers and the train's conductor said they felt the train was going faster than normal after falling behind schedule.
The train had overshot the previous station and had to reverse back to the platform.
The driver, a 23-year-old man with 11 months experience, was still missing on Tuesday morning.
OVER-SHOT STATION
The same driver also over-shot a station by 328 feet last June, railway officials said.
JR West, which was completely privatized a year ago, has been experiencing sluggish revenue growth and has been trying to improve profitability by cutting costs.
"If that made the company neglect its safety responsibilities, that would be a problem," the Yomiuri Shimbun daily said in an editorial.
Officials said a train could derail if it were traveling at nearly twice the 43 mph speed limit on the curved stretch of line where the accident occurred.
The automatic train stop system in the area was of the oldest type and had no ability to apply automatic brakes if a passing train was going too fast, the Transport Ministry said.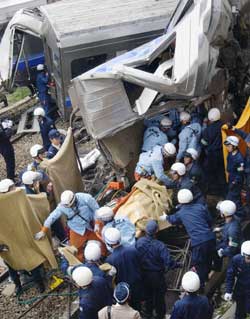 Rescue workers carry an injured passenger after a derailed commuter train smashed into an apartment building in Amagasaki, western Japan April 25, 2005. [Reuters]
Five of the train's seven cars derailed.
It was the worst train accident in Japan since 1963 when about 160 people were killed in a multiple train collision at Yokohama, near Tokyo, and the worst since Japan's rail network was privatized in 1987.
Satoru Sone, a expert at Kogakuin University, told NHK the over-run might have indicated a problem with the brakes. Faulty rails could also not be discounted, he said.
JR West said investigators found marks on the tracks of the type left when a train runs over an object such as a stone, but it said it was not clear if this was related to the accident.
Japanese trains generally have a good safety record.
In Japan's last major accident, in March 2000, five people were killed and 33 were hurt when a Tokyo subway train ripped away the side of a carriage of an oncoming train that had derailed in its path during rush hour.
In May 1991, 42 people were killed and more than 600 injured in a crash in Shigaraki, western Japan.
Shares in JR West closed down 3.6 percent on Monday in a slightly higher overall market.
Today's Top News
Top World News

KMT leader: Taiwan needs to blaze new trails




Families grieve, 73 dead in Japan train crash




Economic growth expected to slow down




Olympic venues to be opened for public use




Draft interpretation under discussion




Indonesia now a strategic partner