Iraq gov't delayed again, could come Tuesday
(Agencies)
Updated: 2005-04-26 08:35
Iraqi politicians again delayed naming a government on Monday, prolonging a three-month political vacuum seen aiding an insurgency, but a senior politician said a cabinet could come as soon as Tuesday.
Jawad al-Maliki, a top member of the main Shi'ite alliance that won January's elections, said wrangling over appointments to key ministries had put off Monday's expected announcement of a proposed cabinet.
Rebel violence has surged in recent weeks as political momentum generated by the Jan. 30 poll has waned. Two twin car bombings killed 22 people on Sunday, and more than 180 Iraqi security personnel have died in the last six weeks.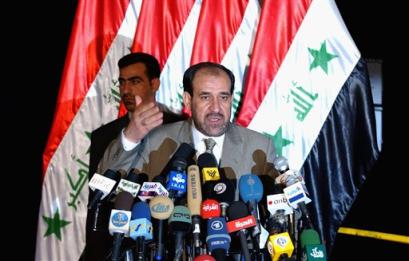 Member of the Iraqi National Assembly Jawad al-Maliki, who is a member of the United Iraqi Alliance (UIA), speaks to the media at the end of the Assembly session Monday April 25, 2005 in Baghdad, Iraq. Iraqi politicians tried again Monday to end a deadlock over the formation of the country's new transitional government. [AP]

A U.S. soldier was killed in a roadside bomb blast near Baghdad, raising to 1,195 the number of U.S. troops killed in action since the war began. Thirty-six have died this month.

Lawmakers say the main Shi'ite alliance has moved to form a government with the Kurds and minority Sunni Muslims, after rejecting demands by caretaker Prime Minister Iyad Allawi that his party receive at least four cabinet ministries.

Lawmakers said that the Shi'ites would get the interior ministry, which handles internal security. It was unclear who would get the crucial oil and defense ministries.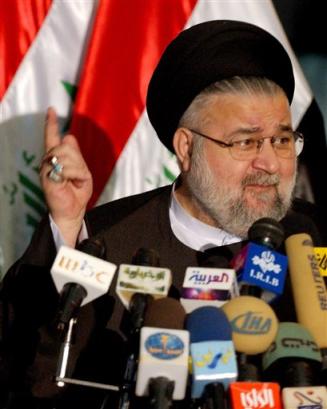 Member of the Iraqi National Assembly Hussein al-Sadr, who is a member of Ayad Allawi's Iraqi list, speaks to the media at the end of the Assembly session Monday April 25, 2005 in Baghdad, Iraq.[AP]

If the Shi'ites take the interior ministry, there are fears they could carry out a purge of Sunnis with experience in intelligence and security who are vital in the fight against the insurgency. On a trip to Iraq this month, Defense Secretary Donald Rumsfeld warned against any such purges.

The cabinet "was expected to be announced today, but it seems that some details about naming ministries and ministers prevented that," Maliki, a lawmaker involved in the negotiations, said after a meeting of the National Assembly.

"There is a meeting today to solve these details and people involved in the meeting are saying that tomorrow it (the government) will be announced," he said in televised comments.

AMERICAN PRESSURE

US Secretary of State Condoleezza Rice and Vice President Dick Cheney have urged top Kurdish and Shi'ite politicians to move more quickly to form a government and avert a political deadlock.

The moves signal a change in Washington's hands-off approach to Iraqi politics and are a measure of the growing concern about delays and their impact on the security situation.

"There is the risk of fiddling while Rome burns," said an American official, who spoke on condition that he not be named, summarizing the U.S. message.

Politicians have repeatedly said in recent weeks that they are close to unveiling a government. The cabinet and the prime minister have to be approved by a simple majority in the 275-seat National Assembly.

Prime Minister-designate Ibrahim Jaafari, who is a member of the Shi'ite alliance, has until May 7 to name a cabinet. If he does not do so by then he will have to step down to make way for a new prime minister who in turn would try to form a government.

The coalition has about 15 political groupings and is headed by Islamists who favor a greater role for religion.

While the main Shi'ite alliance has more than 50 percent of the seats in the parliament, divisions within the coalition mean that it is not certain that Jaafari's proposed cabinet will immediately meet approval.

He is also keen to ensure any cabinet is as representative of Iraq's ethnic and religious groups as possible, involving Sunnis, who were the dominant sect under Saddam Hussein, and the Kurds, who have rebelled against centralized rule in the past.

Lawmakers have said the Shi'ite alliance was expected to take 17 of a likely 32 ministries. The Kurds were expected to receive eight posts and the Sunnis the rest.

Instead of weighing Jaafari's proposed cabinet, parliament heard impassioned speeches on flour, grammar in Koranic verses and forming new committees.

A covert U.S. military task force came close to catching Jordanian militant Abu Musab al-Zarqawi near Ramadi on Feb. 20, ABC News reported, citing a senior military official. Zarqawi eluded capture but his computer, containing valuable information, was discovered in the truck he was riding in, the report said. Zarqawi has claimed responsibility for a string of attacks against U.S. troops and the Iraqi government.

The U.S. military said American troops had detained four more suspects in the downing of a civilian helicopter that killed 11 people last week, raising the number held to 10.

Separately, U.S. troops in Baghdad carried out a sweep of suspected rebel hide-outs to the north and west of the city, capturing 31 suspects and killing several others, a statement from the army said.




Today's Top News
Top World News

KMT leader: Taiwan needs to blaze new trails




Economic growth expected to slow down




Olympic venues to be opened for public use




67 killed in Japan train derailment




Draft interpretation under discussion




Indonesia now a strategic partner