KMT leader: Taiwan needs to blaze new trails
By Xing Zhigang (China Daily)
Updated: 2005-04-25 23:52
Taiwan opposition leader Lien Chan yesterday urged the island to adopt a fresh approach to relations with the mainland and turn its back on half a century of cross-Straits conflict.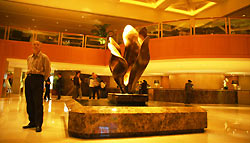 A man stends in the lobby of the Jinlin Hotel in Nanjing, East China's Jiangsu Province, April 25, 2006. Taiwan opposition leader Lien Chan will stay at the hotel on his historical visit to the Chinese mainland. [newsphoto]
Speaking on the eve of his historic visit to the mainland, the chairman of the Kuomintang party (KMT) told reporters there will be no limits on what subjects he will discuss with mainland leaders during the week-long trip.
Lien is scheduled to hold talks with Hu Jintao, general secretary of the Central Committee of the Communist Party of China this Friday in the first top-level meeting between the two parties since 1949.
"I will be modest and objective and will try to understand the other side's stance. There will be no limits to the topics for discussion," said Lien.
"It takes joint efforts.... to create a win-win situation and prevent a disaster that would involve both."
Lien acknowledged the bitter history between the Koumintang and the CPC in 20s-40s of the 20th century which ended in a bloody conflict.
"But now cross-Straits exchanges should no longer be hampered by the mindset of civil war," he said.
"We must not continue to harbour the old mindset of the 1930s or 1950s."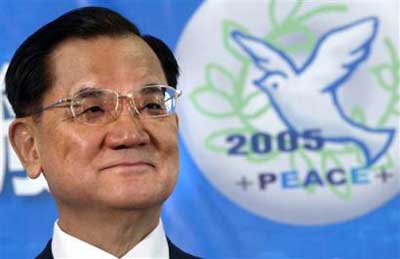 Taiwan opposition leader Lien Chan smiles at a press conference Monday, April 25, 2005, at the party headquarters in Taipei, Taiwan. Lien will begin a historic visit to the mainland on Tuesday, in hopes of fostering a reconciliation between the mainland and Taiwan. [AP]
Lien will head a 60-member delegation for the eight-day "journey of peace" which will take him to Nanjing, Beijing, his birthplace Xi'an and Shanghai.
The KMT leader said he hopes to lay the groundwork for improved relations and closer trade links with the mainland.
He was expected to brief Taiwan leader Chen Shui-bian yesterday afternoon about his mainland trip.
Chen earlier warned Lien against falling into "traps" set up by the mainland and threatened to charge Lien with treason if he signs any deals without government authorization during the mainland visit.
But Chen softened his stance over the weekend and said Lien could use the journey to "toss a stone to test the water" of reconciliation.
Meanwhile, headed by Secretary-General Chin Chin-Sheng, a delegation from the opposition People First Party (PFP) began talks with the Taiwan Work Office of the CPC Central Committee in Beijing on Sunday.
The schedule of Soong's mainland trip is expected to be announced on Wednesday.

(China Daily 04/26/2005 page1)

Today's Top News
Top China News

KMT leader: Taiwan needs to blaze new trails




Families grieve, 73 dead in Japan train crash




Yen rallies, bet is on China revaluation




Economic growth expected to slow down




Olympic venues to be opened for public use




Draft interpretation under discussion