Syria ending military presence in Lebanon
(Agencies)
Updated: 2005-04-25 07:54
Flatbed trucks hauled tanks toward the border on Sunday while soldiers loaded ammunition, burned documents and knocked down the walls of an old base in eastern Lebanon, effectively ending Syria's 29-year military domination of its smaller neighbor.
Most of the last 1,000 Syrian troops in Lebanon have withdrawn in the past few days. A senior Lebanese military officer said only 300 will remain behind until Tuesday for a ceremony marking the formal end of Syria's military presence.
"All Syrian troops will leave Lebanon by Tuesday," the officer told The Associated Press, speaking on condition of anonymity, which is typical for Lebanese military officials.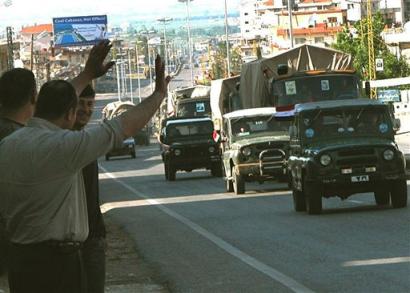 Lebanese people wave goodbye to a Syrian convoy as it drives across into Syria at the Masnaa border crossing in the Bekaa Valley east of Beirut, Lebanon, Sunday April 24, 2005. Dozens of trucks carrying hundreds of soldiers and at least 150 armored vehicles, towing artillery pieces and rocket launchers, crossed the border into Syria, witnesses said. Syrian troops burned documents and dismantled military posts before they finished their effective withdrawal from Lebanon Sunday, ending 29 years of military presence in the country. [AP]

The pullout marks a dramatic shift in relations between the two countries and caps two months of intensive international and domestic pressure on Damascus to get out of Lebanon, triggered by the Feb. 14 assassination of former Prime Minister Rafik Hariri. Syria had about 14,000 troops in the country around the time of Hariri's killing, which the opposition blamed on Damascus and its allies in the Lebanese government. Both denied any involvement.

Syrian intelligence agents vacated their headquarters in the city of Baalbek in the eastern Bekaa Valley at noon Sunday and later the Lebanese army moved in and took over the position. Lebanese soldiers also hoisted their nation's flag at a vacated Syrian checkpoint in Deir el-Ahmar. A Lebanese bulldozer filled holes and trenches used by retreating Syrian soldiers in Baalbek.

An Associated Press reporter in Baalbek saw a convoy of 200 armored vehicles towing cannons and rocket launchers, T-52 and T72 tanks, military trucks in pouring rain and buses carrying more than 500 soldiers heading to the border.

At their last major garrison in Lebanon, the Bekaa town of Deir el-Ahmar, Syrian soldiers burned documents, dismantled military posts and loaded ammunition on to trucks.

The Bekaa Valley, which was a strategically important region for Syria's own security, particularly in facing arch-foe Israel, is now almost entirely clear of Syrian troops and military intelligence, witnesses said.

The exception is the border town of Anjar, home of Syria's chief of military intelligence in Lebanon, where Syrian officials appeared to be going about their business as usual Sunday.

Syrian and Lebanese officials said Sunday that Syria was withdrawing all but a token force that will remain for a farewell ceremony Tuesday that the Lebanese Army is planning in a town near the border.

"Within the next few hours, all the troops will be out of Lebanon," a Syrian government official said in Damascus. "What will be left are those who will take part in the official farewell" on Tuesday, the official said, speaking on condition of anonymity.

The Lebanese officer said some 300 Syrian officers and soldiers will attend Tuesday's ceremony at a base in Rayak, a few miles from the Syrian border, to pay tribute to the Syrian Army's role in Lebanon. Afterward, the token Syrian force will leave and there will not be a single Syrian soldier left in Lebanon.

It was assumed that the Syrian intelligence and their chief would also withdraw by Tuesday.

The Syrians entered Lebanon in 1976, ostensibly as peacekeepers in the year-old civil war. After the war ended in 1990, 40,000 Syrian troops remained in Lebanon, giving Damascus the decisive say in Lebanese politics.

In September 2004, when the number of Syrian troops in Lebanon stood at about 14,000, the U.N. Security Council adopted a resolution calling on Syria to withdraw all its troops and intelligence operatives.

But it was Hariri's killing that dealt the final blow to three decades of Syrian military and political domination of Lebanon.

The killing brought hundreds of thousands out into the streets demanding that Syria leave. The United States and United Nations seized the opportunity to turn up the volume on their own demands for a complete Syrian pullout by April 30 ahead of parliamentary elections, scheduled for next month, a demand that now looks certain to be met.




Today's Top News
Top World News

Officials react angrily to US moves on yuan




China, Japan mend fences, pitfalls ahead





Chen ¡®okays¡¯ opposition leader's visit




Legislators examine motion on HK chief




Jurors to help decide court verdicts




Jilin coal mine flooding traps 69 men