China congratulates Ratzinger as new pope
(chinadaily.com.cn/agencies)
Updated: 2005-04-20 13:27
China on Wednesday congratulated the newly elected Pope Benedict XVI and said it hoped the Vatican under the new pope and China will work to improve strained relations.

"We hope under the leadership of the new pope, the Vatican side can create favorable conditions for improving the relationship between China and the Vatican," Foreign Ministry spokesman Qin Gang said in a statement.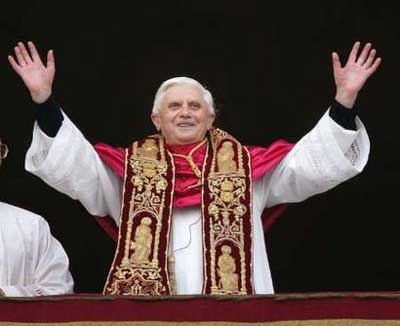 Pope Benedict XVI, Cardinal Joseph Ratzinger of Germany, waves from a balcony of St. Peter's Basilica in the Vatican after being elected by the conclave of cardinals, April 19, 2005. German Cardinal Joseph Ratzinger, the strict defender of Catholic orthodoxy for the past 23 years, was elected Pope on Tuesday despite a widespread assumption he was too old and divisive to win election. [Reuters]

China broke ties with the Vatican in 1951 and has said it will consider opening relations only if the Vatican cuts links with Taiwan. The Vatican is the only European government that has official relations with Taiwan.

Qin said relations between the two sides could improve under two conditions.

"The Vatican must cut off its so-called diplomatic relations with Taiwan, acknowledging the People's Republic of China is the only sole legal government representing the whole of China," he said.

Secondly, the Vatican "must not intervene in China's domestic affairs, including not intervening in domestic affairs in the name of religion," Qin said.

The official body representing China's Catholics also sent a congratulatory cable to the Vatican and asked its followers to pray for him as a gesture of congratulations, Qin said.

CONGRATULATORY MESSAGE

Chinese Catholic Patriotic Association and Chinese Catholic Bishops' Conference on Wednesday sent a joint message of congratulations to Cardinal Joseph Ratzinger of Germany on his election of the 265th pope of the Roman Catholic Church.

"Give thanks to the almighty God for choosing you as the representative of Christ on earth, the heir of Saint Peter," said the message.

"With joy and happiness in the Risen Christ, we offer to you our hearty congratulations in Christ" on behalf of more than 5 million Chinese Catholics, it added.

"It is our earnest hope that you would enhance the Sino-Vatican relations for the sake of the salvific work of Jesus Christ," it said.

The Vatican announced Ratzinger was elected the 265th pope of the Roman Catholic Church on Tuesday and took the name Pope Benedict XVI.

Ratzinger, who was born on April 16, 1927 in Marktl am Inn in Germany's southern region of Bavaria, gained strong support among cardinals seeking a successor to Pope John Paul II who died on April 2 at the age of 84.





Today's Top News
Top China News

KMT leader to visit mainland April 26-May 3




Two Americans get jail for DVD piracy




FM: Annan's advice taken on board




China congratulates Ratzinger as new pope




Tokyo court rejects appeal of war victims




Bush, US Senate jerk up pressure on yuan