Art district 798 to embrace int'l festival
(China Daily)
Updated: 2005-04-20 09:44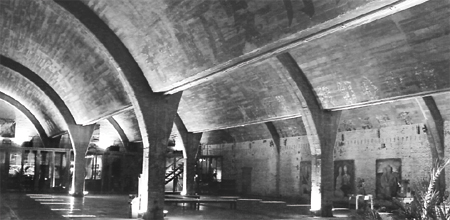 Dashanzi's designers have turned the district's Factory 798 into a web of cool post-industrial art spaces while preserving traces of the past. [China Daily]


Art dealers, architects and designers who helped create the freewheeling Dashanzi Art District, where artists can meet the masses, are planning to stage a festival to celebrate Beijing's emergence as a global cultural centre.

Various events

Shannti Dinnoo, a young Belgian who is part of Dashanzi's multi-nation promotion team, said the second Dashanzi International Art Festival (www.diaf.org) will feature Chinese and African musicians, French digital video directors, a German-Swedish contemporary dance troupe and an aerial acrobat "who was trained in the French circus and now combines acrobatics with dance."

The culture-fest, which runs through May 22, will also showcase digital media artworks and new-millennium minstrels "who will stroll around the art district telling their stories in different languages," she said.

Dinnoo adds that "the twin themes of the festival are language and legend."

She explains that the celebration will spotlight everything from a British theatre group that uses hand-written signs and body gestures to communicate to a multi-media show called Techno Orientalism which includes Japanese animation artists and the Chinese-American laptop music composers FM3.

Besides unveiling Beijing's burgeoning role as a new "world cultural capital," the festival will highlight competing visions of the country's future.

Dutch architects Neville Mars and Saskia Vendel, for example, will create a model of Beijing as it undergoes hyper-speed urbanization over the next decades.

Vendel said that as more rural people march into Chinese cities to join the country's economic boom, "the urban population is likely to double or even triple in the next 15 years."

The country will have to rapidly construct or expand cities on an unprecedented scale.

Mars said that "Chinese architects are 500 times as efficient as their American counterparts," and will all be enlisted in the ongoing march towards modernization.

But he adds that it is unclear whether a master blueprint can be drawn up for this evolution.

During the festival, Mars and Vendel's Dynamic City Foundation (www.dynamiccity.org) will display a futuristic Chinese cosmopolis featuring cool, cloud-piercing cylinders that will serve as living spaces, all interconnected with a web of elevated walkways and subterranean trains.

The crystalline, smokestack-shaped buildings will maximize each citizen's exposure to sunlight, provide optimal views of the evolving city, and "accommodate 25,000 residents per square kilometre," said Vendel. She said: "That is 10 times the density of present-day Manhattan."

Dashanzi's celebration of contrasting cultures and living concepts "is the first independent arts festival ever to be held in Beijing," said Els Silvrants, a Dutch impresario who is helping put the show together.

Silvrants adds that art salons, advertising outfits and publishers who have set up shops in the Dashanzi district are overjoyed that they can now count the French Embassy, the Netherlands' Government, the British Council, and Sony as sponsors of the festival.

On May 4th, French and Belgian dancers will take centre stage at the district's Daoyaolu Workshop to re-enact "myths of creation from all over the word" in a performance entitled "Skene."

Threatened future

But behind the scenes, the "cultural creatives" who, since the turn of the century, have begun leasing space at Dashanzi and collectively transforming the one-time industrial complex might be more focused on their threatened doom.

Dashanzi was originally set up as a vast, centrally planned factory complex by Chinese and East German defence technicians in the 1950s.

Three decades later, Dashanzi's fortunes began sinking as Beijing launched its twin policies of market reforms and opening up to the outside world.

Yet the crumbling district found new life when its unique German architecture and soaring smokestacks started attracting sculptors, painters and fashion designers looking for cheap space to create a cultural colony in the Chinese capital.

In the last few years, these leaders of China's nascent "creative class" have re-engineered the entire district into a cool, post-industrial, globalized space for art studios, clubs, experimental exhibition spaces, eateries and bookshops.

But the complex's original owners now want to redevelop Dashanzi in an ironic twist of fate.

Since new-age artists have flocked to the low-rent complex, the property value of the area has skyrocketed. The developers would now like to capitalize on this by forcing out those who engineered Dashanzi's renaissance.

Already, these developers have blocked new or extended leases to artists.

A gigantic mechanical army of construction cranes and wrecking balls seems to be waiting in the wings to level the new art district.

The news that Dashanzi will be put under commercial development began to go around in early 2003, but did not receive enough attention from both government and local media until early 2004 when Li Xiangqu, a professor at the Academy of Arts and Design at Tsinghua University and a deputy to the Beijing People's Congress, put forward a proposal appealing for protection of the area.

Huang Rui, an artist/writer who helped sculpt Dashanzi's new-century makeover and publicized its threatened destruction in a fantastic, English and Chinese book "Beijing 798" (named after the Factory 798 that lies at the heart of Dashanzi), said the district has won a three-year reprieve.

"The Beijing government has issued an order that the Dashanzi Art District be protected at least until the 2008 Summer Olympics set to be staged in the Chinese capital," Huang said.

"Dashanzi is a symbol of artistic freedom and of China's new civil society," and, as more leaders recognize its role as a global showcase for China's new century cultural renewal, the space could survive long after the Summer Games, he predicted.

A source from the Jiuxianqiao Subdistrict Office, the immediate administrative authority of Dashanzi Area, partly confirmed that.




| | |
| --- | --- |
| | |
| Paris Hilton launches perfume | |

| | |
| --- | --- |
| | |
| Time's 100 most influential people gather in NY | |

| | |
| --- | --- |
| | |
| Chinese model contest | |
Today's Top News
Top Life News

KMT leader to visit mainland April 26-May 3




Two Americans get jail for DVD piracy




FM: Annan's advice taken on board




China congratulates Ratzinger as new pope




Tokyo court rejects appeal of war victims




Bush, US Senate jerk up pressure on yuan