System doubted as teacher, 57, died still as a lecturer
(Shanghai Star)
Updated: 2005-04-20 09:28
Yan Caihong, a lecturer from the School of Electronics, Information and Electrical Engineering of Shanghai Jiaotong University, died of lung cancer on March 12.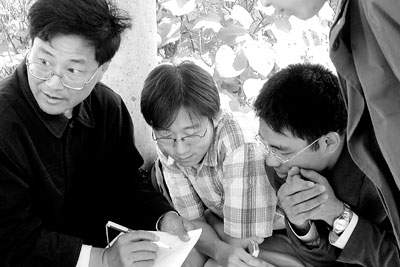 Yan Caihong (L) instructs his students at Shanghai Jiaotong University. Yan passed away on March 12. [baidu]


Unlike many other university teachers, Yan's death was followed not only by mourning among his students and friends but also criticism of and disputes about the achievement evaluation system for teachers in Chinese universities.

When Yan passed away, he was 57 years old.

For most teachers of this age in Chinese universities, there are only two or three years left before their retirement and most of them retire as professors or associate professors.

But as an electronic circuit analysis teacher in the school, who had worked in the university for more than 15 years, Yan was still a lecturer when he passed away.

The reason why he was not promoted to professor lies in the current evaluation standards and system in the university - he had never published any academic articles in academic journals recognized by the system.

Friend and idol

His students feel this was not fair to him. After having heard about his death, his current and former students logged on to the BBS of Shanghai Jiaotong University to express their mourning and respect.

Several days after he passed away, thousands of such notes had been submitted by students and posted on the BBS. All praised him as an excellent teacher.

Hu Chuanxin, a former student, said that Yan was the best teacher he had ever met, he even considered Yan as his idol.

"I have become a tutor of electronic circuit analysis at the National University of Singapore and I try to teach my students as you taught me. I'm trying to be a good teacher like you."

Most of his students consider him more of a friend than a teacher.

One of his former students nicknamed "Ant" said in his article that he was Yan's student 11 years ago.

Yan was in his 40s at that time, but he still kept very intimate and close relationships with his students.

"Ant" said that Yan registered as a member of the Shanghai Jiaotong University's BBS system under the name "Rainbow Piggy" and chatted with his students without any reserve.

"He was more of a good friend than a rigid teacher. The electronic circuit analysis course he taught to students helped most of his students enter the field of electronic engineering. Though he was only a lecturer, his influence on many graduates of the school was greater than that of many professors," the student said, praising his former teacher on the BBS.

Biased evaluation

As a matter of fact, though teaching plays the most important role in many college students' lives at university, the strict evaluation standards for college teachers' promotion is based on their academic achievements.

A principal of Shanghai Jiaotong University, who refused to reveal his name, said that the university is a not merely a place for teaching.

"The main functions of universities should be to stick to academic research because a university is rather a place for scholars doing research work than carrying on teaching work. And we have specific standards to judge whether a teacher is competent in improving or upgrading the academic knowledge - to publish academic articles which can show his academic abilities and achievements in certain academic journals, such as listed journals in the SCI. In this sense, Yan failed to prove his academic abilities, though we now miss him as an excellent teacher," he said.

Yan's problem does not only exist in Shanghai Jiaotong University.

Today all the universities in Shanghai have similar evaluation systems and standards which decide and confirm both promotion and academic achievements of teachers in universities and colleges.

In Fudan University, if a lecturer wants to be promoted to be an associate professor, he will have to publish several articles on research in any of China's core academic journals or some foreign journals like Nature or Science.

In some universities which have majors only in social sciences, such as Shanghai International Studies University (SISU), teachers are bound by similar rules.

A scoring system introduced by a teacher from the International Education School of SISU decides their promotions.

If someone wants to be promoted from tutor to lecturer, he will have to reach 20 points in the system - the score mainly based on the number of academic articles he publishes in relevant academic journals.

Teaching doesn't gain any points in this system.

"Publishing articles in relevant authoritative academic journals is the most efficient way of testing a scholar's academic abilities and potential at present," said a doctor of philosophy from Fudan University about the current evaluation systems in universities. "If someone's article is published in one of those journals, it means that what he proposes in his article is recognized by authorities in the field of his studies. People should understand the university is rather a place for research than for teaching, and as I said, those articles can prove research abilities."

Starting early

The strict rules have been widely applied to post-graduate students in universities. In both SISU and Fudan University, post-graduate students who want to get a master's or doctor's degree have to publish articles in certain academic journals during the two or three years when they are taking courses. For students who want to receive a master's degree, most universities in Shanghai, including SISU and Fudan University, require them to publish one article in any of China's core academic journals. Those who want to receive a doctorate are required to publish at least two articles in any of the core academic journals.

Zhang Yi, a candidate for a Master of Arts degree at Shanghai University, said he was worried about the requirements. "It's too difficult for me, though I don't think that I lack ability in academic research. Some of my classmates have already published articles, but they have to pay for that and they are familiar with editors of those journals. I'm not blaming the system, but it seems that it needs some regulations to ensure fairness," he said.

Ding Xin, a lecturer from SISU, pointed to Yan's problem and the evaluation system as proof that the current system needs some modification.

"I quite agree with the opinion that the current evaluation system is the most efficient way to judge whether a university teacher is competent in academic research. According to my own experiences, I think that to write a bona fide, excellent academic article is much more difficult than teaching, because it requires scholars and teachers to make improvements in the field of their academic studies, and the significance is more profound. But saying these articles are the only standard is not good. Furthermore, there are no specific regulations to clearly decide what kinds of articles are valuable and significant now," she said.

Ding also noted that students and teachers needed to understand that a university is a place mainly for carrying out academic research, not only for teaching.

Some universities have already announced relatively balanced and clear evaluation systems. Tianjin University adopted a system in 2003 that divides teachers into three categories - primarily academic research, research and teaching and primarily teaching. The requirements for promoting each type of teacher varies in accordance with the work they mainly deal with.





| | |
| --- | --- |
| | |
| Paris Hilton launches perfume | |

| | |
| --- | --- |
| | |
| Time's 100 most influential people gather in NY | |

| | |
| --- | --- |
| | |
| Chinese model contest | |
Today's Top News
Top Life News

KMT leader to visit mainland April 26-May 3




Two Americans get jail for DVD piracy




FM: Annan's advice taken on board




China congratulates Ratzinger as new pope




Tokyo court rejects appeal of war victims




Bush, US Senate jerk up pressure on yuan