Yao Ming towers above all as hard worker
(Xinhua)
Updated: 2005-04-20 08:32
Basketball star Yao Ming was nominated a few days ago as a candidate for the National Model Worker award along with 2,976 other candidates.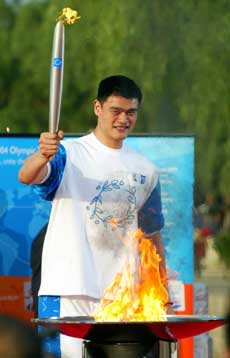 Yao Ming, a well-known Chinese basketball player and NBA Houston Rockets center, joins the 2004 Athens Olympic torch relay in Beijing's Summer Palace in this June 9, 2004 file photo. Yao is tipped by his hometown, Shanghai, as a national model worker. [newsphoto]


Despite winning the model worker award twice in his native Shanghai, Yao's nomination in the nationwide selection was widely challenged.

Many members of the public felt his unusual background - a millionaire living in the United States - should exclude him from selection.

The nationwide selection of model workers, conducted by the State Council, has been held since 1950 and once every five years since 1989.

It was intended to select exemplary figures from the country's huge working population of about 750 million and inspire public morale.

Model worker winners generally are public servants such as toilet cleaners, bus drivers, plumbers or scientists with outstanding accomplishments.

"According to the past criteria, the title of 'model worker' should only be given to ordinary laborers," said Zhou Xiaozheng, a sociology professor at Beijing-based China Renmin University.

"Sports stars, whose outstanding achievements not only come from hard work, but also rely heavily on innate talent, are not the perfect models for the public."

However, Yu Hai, a sociology professor at Shanghai-based Fudan University, argued otherwise.

"Yao's work in the NBA has benefited not only himself, but also his country," Yu said. "Yao answers the call of the motherland whenever needed, for example, at the Athens Olympic Games. He has inspired China's national basketball team with his skills and experience acquired in NBA matches. He achieved a historic breakthrough."

One main reason given for Yao's nomination by the Shanghai Municipal Judging Panel for Model Workers was that Yao acted as "a perfect image ambassador for China in the eyes of the world" and had helped promote the sport's development across the country.

Another reason was that Yao, an NBA all-star for the Houston Rockets, repeatedly displayed patriotism as he "always put his country above personal concerns."

Yin Weimin, vice director of the Judging Panel for National Model and Advanced Workers under the State Council, said: "We believe anyone who has made outstanding contributions to society, whatever field he or she specializes in, is entitled to be a 'model worker.'"

Zhang Mingji, Yao's agent, said the player takes the honor seriously. "Yao believes that winning the award is a recognition by his motherland of all his hard work, no matter if it's at home or overseas," Zhang said.

It was the first time the list of candidates was released nationwide for public comments. Earlier, the inclusion of more than 30 private entrepreneurs triggered a debate on whether business owners should be eligible for an honor supposed to be "reserved for the working class."

The winners of this year's award will be announced on April 30 in Beijing.




| | |
| --- | --- |
| | |
| Paris Hilton launches perfume | |

| | |
| --- | --- |
| | |
| Time's 100 most influential people gather in NY | |

| | |
| --- | --- |
| | |
| Chinese model contest | |
Today's Top News
Top Life News

KMT leader to visit mainland April 26-May 3




Two Americans get jail for DVD piracy




FM: Annan's advice taken on board




China congratulates Ratzinger as new pope




Tokyo court rejects appeal of war victims




Bush, US Senate jerk up pressure on yuan