FM: Annan's advice taken on board
By Jiang Zhuqing
Updated: 2005-04-19 23:59
China is "studying" a suggestion by UN Secretary-General Kofi Annan that Chinese and Japanese leaders meet at the upcoming Asia-Africa summit in Indonesia to resolve their differences, said Foreign Ministry spokesman Qin Gang yesterday.
China is sincere in its wish to develop relations with Japan, and hopes its neighbour shares a similar desire, especially on historical and Taiwan issues, said Qin.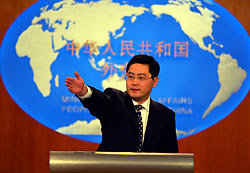 Qin Gang gestures at a FM Press. [newsphoto/file]

"The two sides should run in the same direction, rather than in the opposite one," Qin said.

"They (China and Japan) have lots of relationships, on all fronts -- political, economic and social -- and I hope those important aspects of their relationship will encourage them to resolve their differences," Annan was quoted as saying by agencies.

Referring to a visit by Japanese Foreign Minister Machimura Nobutaka to China, Qin said the two sides exchanged views on bilateral relations in a frank manner.

Nobutaka said Japan's invasion of China brought great suffering to the Chinese people and the Japanese side was deeply regretful and once again expressed its deep remorse and apologies.

The Japanese foreign minister said Japan would draw profound lessons from history and continue to adopt a path of peaceful development, according to Qin.

Meanwhile, Japanese Prime Minister Junichiro Koizumi yesterday shrugged off Beijing's complaints about his visits to the Yasukuni Shrine in Tokyo, which honours Class A war criminals along with other war dead, Kyodo News reported on its website.

"I do not think that is the case," Koizumi told reporters when asked for his response to the complaints, adding that he does not believe his visits to the shrine have hurt Japan's diplomatic interests.

"Each country has its own history, tradition and views," Koizumi said.

Speaking at a meeting on the current Sino-Japanese situation yesterday, Foreign Minister Li Zhaoxing said that Japan should take "concrete actions" to meet the commitment it made to face and meditate on its history of aggression.

He also encouraged the Chinese public to translate their patriotism into enthusiasm for their work and studies.

Commenting on a report that a Japanese court had rejected the compensation demands of Chinese victims of Japanese atrocities committed during the 1930s and 1940s, Qin said: "We hope the Japanese side will approach this issue in a responsible manner and handle it appropriately."

The Tokyo High Court upheld a 1999 lower court ruling that international law barred foreign citizens from seeking compensation from the Japanese Government for wartime actions, reports said.

The 10 plaintiffs, including families of the victims, demanded compensation for the death and suffering caused by wartime biological experiments, the Nanjing Massacre and the fire bombing of Yong'an in Fujian Province, the reports said.

India and Pakistan

As to the recent progress in India-Pakistan relations, Qin said China welcomes the consensus reached by Pakistani President Pervez Musharraf and Indian Prime Minister Manmohan Singh on improving and developing ties.

Musharraf visited India from April 16 to 18 on his second such trip in four years. The two Asian countries issued a joint statement, saying the peace process had become almost "irreversible."

When questioned about the free trade talks between China and Australia, Qin said China was ready to launch similar talks with other countries, adding that China attached great importance to "equal" and "reciprocal" economic co-operation with other countries and regions.




Today's Top News
Top China News

Two Americans get jail for DVD piracy




FM: Annan's advice taken on board




German cardinal becomes Pope Benedict XVI




Tokyo court rejects appeal of war victims




Toothpaste cancer scare spotlighted




Safety must improve as air travel grows