Two Americans get jail for DVD piracy
By Cao Li, Cui Ning (China Daily)
Updated: 2005-04-19 23:59
Officials launching a week-long anti-piracy campaign across the nation got a shot in the arm from a Shanghai court yesterday: Two Americans were among four people found guilty of selling pirated DVDs on the Internet.
Randolph Hobson Guthrie III, the prime culprit, was sentenced to 30 months' jail and fined 500,000 yuan (US$60,459).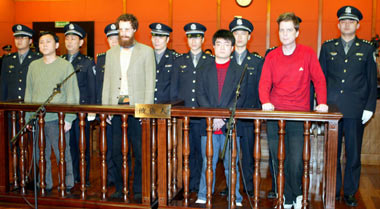 Wu Dong, Randolph Hobson Guthrie III, Wu Shibiao and Cody Abram Thrush are sentenced in a Shanghai court. [newsphoto]
Three accomplices - Wu Dong, Cody Abram Thrush, and Wu Shibiao were all given jail terms ranging up to 15 months and fines of between 10,000 (US$1,209) and 30,000 yuan (US$3,628).
The two Americans will be expelled from the country after serving their prison terms, the judge pronounced.
Police revealed the four had sold pirated DVDs for US$3 each through eBay and another website called "Three Dollar DVD" from November 3, 2003, to July 1, 2004.
According to receipts from courier companies and data seized from the Guthrie's computer, police estimated that more than 180,000 pirate DVDs worth more than 7 million yuan (US$840,000) had been sold by the company.
Based on evidence provided, a judge of the Shanghai No 2 Intermediate People's Court found that they had sold about 133,000 pirate DVDs worth more than 3.3 million yuan (US$393,000) to more than 20 countries including the United States, Australia, Britain and Canada and earned nearly 1 million yuan (US$120,900) from the business.
The case was given top priority and last year was categorized as one of the country's top 10 IPR (intellectual property right) cases by the State Intellectual Property Office.
Investigators swung into action when the Bureau of Investigation of Economic Crimes under the Ministry of Public Security received a report from the US Embassy in China last April about two Shanghai-based Americans selling pirated DVDs abroad and immediately started to co-ordinate with their United States counterparts.
Guthrie, Wu Dong and Thrush were arrested about two months later and Wu Shibiao turned himself in shortly afterwards.
"Nearly 120,000 pirate DVDs were found at Guthrie's home and a temporary warehouse rented by Wu Shibiao," said Qin Jiongtian, a prosecutor at Shanghai No 2 Intermediate procuratorate.
"Guthrie denied in the court that he had ever sold any DVDs on eBay and claimed that he dealt only in shoes and purses; but the evidence against him was overwhelming," said Qin.
The four convicts did not say in the courtroom whether they would appeal the sentences.
Crackdown tougher
China, which has been accused by some quarters of being lax in enforcing IPR protection, launches a national week-long campaign today to further enhance public awareness of IPR protection.
Jiang Zhipei, chief judge of the Intellectual Property Rights Tribunal of the Supreme People's Court, told China Daily yesterday in Beijing that the crack down on IPR violations has been getting more intense over recent years because domestic and overseas pirates were colluding to sell illegally-copied DVDs and other products.
Jiang said courts around China had been aware of transnational piracy but were unable to seize any suspects. He was delighted that a major case had been solved thanks to China-US joint enforcement efforts.
"Following this success, governments, police and customs in each country should work together to jointly fight IPR crime," said Jiang.
Jiang said Chinese courts would continue to intensify efforts to enforce IPR laws in the coming few years, adding "the number of criminal cases of IPR infringement is likely to rise in the second half of this year due to the promulgation of the new judicial interpretation late last year which aims to make it easier to prosecute IPR crimes."
Last year, Chinese courts heard more than 12,000 cases of IPR violation, up roughly a third from the previous year. Among them, 151 cases involved foreign individuals, buisnesses or other organizations.
Today's Top News
Top China News

Two Americans get jail for DVD piracy




FM: Annan's advice taken on board




Germ warfare site bids for world heritage




Safety must improve as air travel grows




Spotting Great Wall from space IS possible




KMT chief to visit mainland April 26 - paper