KMT chief to visit mainland April 26 - paper
(Agencies)
Updated: 2005-04-19 12:53
Taiwan's main opposition leader Lien Chan is expected to embark on a historic visit to China on April 26 and meet Chinese President Hu Jintao, the mass circulation China Times newspaper said on Tuesday.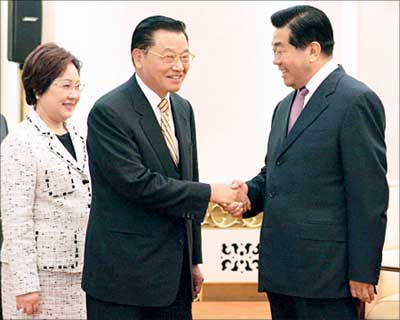 Jia Qinglin (right), Standing Committee member of the Political Bureau of the CPC Central Committee, meets Chiang Pin-kun, Kuomintang vice-chairman and leader of the 34-member delegation from Taiwan, March 31 at Beijing's Great Hall of the People. Jia, also chairman of the Chinese People's Political Consultative Conference National Committee, is the highest Beijing official to meet Chiang in the KMT's first official mainland visit in 56 years. [newsphoto]


Lien's Nationalist Party, also known as the Kuomintang (KMT), said details of Lien's trip would be finalised after its secretary-general Lin Feng-cheng returns from Beijing later on Tuesday.

The China Times quoted sources as saying Lien's eight-day visit would take him to Nanjing, Shanghai, Xian and Beijing before returning on May 3.

The KMT once ruled all of China before losing a civil war to Mao Zedong's Communists in 1949 and fleeing to Taiwan, where they ruled for more than 50 years.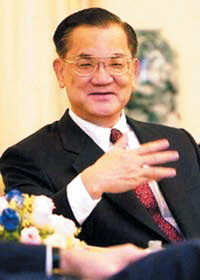 Lien Chan [file photo]

They lost two successive presidential elections to present leader Chen Shui-bian in 2000 and 2004.

Chen has expressed concern about the flurry of exchanges between opposition parties and the Chinese Mainland, urging delegations to consult the local government before going.

On Monday, China's official Xinhua news agency said Hu had invited James Soong, the head of the smaller People First Party (PFP), to the Chinese Mainland -- an offer Soong immediately accepted.

The KMT and PFP both favour eventual reunification, while Chen's Democratic Progressive Party supports a pro-independence platform.

In Nanjing, Lien is expected to pay respects at the tomb of Sun Yat-sen, the revolutionary who founded the KMT 110 years ago and served as China's president from 1923 until his death in 1925, the China Times said.

Lien is scheduled to go to Shanghai to meet Taiwan businesspeople, visit his birthplace Xi'an, and hold a meeting with Hu in Beijing, possibly between April 29 and May 1, it said.

In March, the KMT sent vice-chairman Chiang Pin-kung to the mainland in the party's first official trip to the Chinese Mainland in 56 years.

China rolled out the red carpet for Chiang, offering economic incentives.




Today's Top News
Top China News

Agreements pave way for China-Australia FTA




Spotting Great Wall from space IS possible




Tang: Japan failed trust of the Chinese people




NPC to discuss Basic Law interpretation




Invitation for second Taiwan party chief




Bush says raising retirement age a possibility