Ex-Guantanamo prisoner didn't know of 9/11
(Agencies)
Updated: 2005-04-15 09:28
A Kuwaiti who returned home after three years in the American prison at Guantanamo Bay denied Thursday U.S. interrogation records that say he served on the front line of the Afghan civil war as a kind of mediator.
Nasser al-Mutairi accused the U.S. military of making up the record of his evidence before a military panel in Guantanamo. He said he was doing charity work in Afghanistan.
Speaking a day after he was released on bail by a Kuwaiti court, the bearded 27-year-old also denied telling the panel that in Afghanistan he heard about the Sept. 11 attacks soon after they happened. On Thursday, he said had not even heard of the Sept. 11 attacks when troops captured him in late 2001.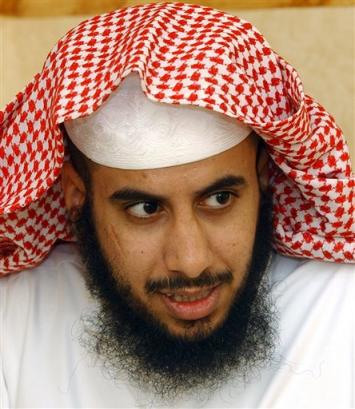 Kuwaiti Nassser al-Mutairi talks to an AP reporter, not seen, in his house at Sabahiya, 35 Km south of Kuwait City on Thursday, April 14, 2005. Kuwait's State Security police arrested al-Mutairi last January on his return to the country after spending three years in dentention at Guantanamo. Kuwait's Criminal Court Wednesday released him on a US$685 bail.[AP]

He also said the first he learned of the 1991 attacks on the World Trade Center and Pentagon was after he arrived at the U.S. naval base in Cuba.

"I was in shock. I had nothing to do with the situation," he said. "I hadn't heard of (the attacks). We did not have radios or televisions."

In the rambling interview at his home in Sabahiya, a remote suburb south of Kuwait City, al-Mutairi spoke of a grueling prison ordeal that included being shot and catching pneumonia, and of the psychological stress of a long internment.

He said he traveled to Afghanistan a year before the U.S.-led war on terror, distributing food to poor Afghanis displaced by the country's civil war.

The transcript came from al-Mutairi's testimony before a U.S. military panel that eventually ruled him an enemy combatant. According to the transcript, filed in federal court in Washington, he said he spent most of his time in Afghanistan on the war's front lines, serving "rabat," a type of Muslim religious duty he said involved trying to discourage fighting.

He told the panel he never fired a shot, although he was armed with a rifle and two hand grenades. He also told the tribunal he heard about the Sept. 11 attacks a few days after they happened, according to the transcript.

Asked about the testimony, al-Mutairi stuck by his account in the interview and denied making the comments in the transcript ¡ª saying they were the result either of translator error or were made up by investigators.

"They made up the story," he said. "Investigators can say anything."

Other detainees released from Guantanamo have said they told interrogators false stories about involvement with the Taliban or other groups because of relentless pressure or out of a belief it would lead to their release. Al-Mutairi did not claim that was the case with him, instead denying outright that he gave the account in the transcript.

The U.S. military has given no explanation of why he was freed. He was flown from Guantanamo in January to Kuwait, where authorities took him into custody upon arrival. He is charged with harming Kuwait by working for a foreign country, joining a foreign military without permission and undergoing illegal weapons training. Al-Mutairi denied the charges in court and was released on bail Tuesday.

While in Guantanamo, American interrogators showed him photos and videos of the hijacked planes slamming into the World Trade Center, al-Mutairi said.

"It is a horrendous incident, and I thought then that our detention in Guantanamo was their way of taking revenge," he said.

Al-Mutairi told AP he never fought in Afghanistan or had any contacts with the Taliban, who ruled the country when he arrived, or Saudi-born Osama bin Laden, whose al-Qaida terror network is accused of carrying out the attacks in New York and Washington.

Al-Mutairi said he was arrested near Mazar-e-Sharif by followers of anti-Taliban warlord Abdul-Rashid Dostum as he tried to leave the country. He was thrown in the dungeon of Qala-e-Jangi fortress. Guards took the prisoners into the yard the next day and shot at them. Al-Mutairi said he suffered gunshot wounds in both thighs.

"We spent eight days in the dungeon standing in cold and filthy water and I caught pneumonia," said al-Mutairi, who walks with a limp.

Some prisoners were then taken to a hospital in Mazar-e-Sharif, and it was there when he was arrested by American forces and transferred to Kandahar, then flown to Guantanamo, where he said half of his left lung was removed because of the pneumonia. He also underwent physical therapy for his legs.

On the U.S. Naval Base, he felt there was "a psychological war" against prisoners. Food was rationed in small amounts. When prisoners asked for seconds, guards threw the food out of the serving pans instead of giving it to them, he said.

"They deliberately poured tea and left it to become cold before they served it to us," he said. "They bothered me when I prayed by playing loud music or stamping their feet hard beside me."

When an American officer told him after a military hearing that he was going to be freed, al-Mutairi believed he was playing psychological games.

"I did not believe it until I saw the Kuwaiti delegation," he said, smiling and shyly looking at the floor of the sitting room.

Eleven Kuwaitis are among more than 500 terror suspects from some 40 countries still held at Guantanamo.

Asked how he felt about his experience in Afghanistan and Guantanamo, al-Mutairi said he felt "maybe some regret that I was too hasty to do charity work on my own. It would have been better to have gone there with a government organization."




Today's Top News
Top World News

Bush: China a great nation growing like mad




Koizumi calls for dialogue on oil dispute




Schroeder to Japan: Be self-critical of history




Cancer chemical in French fries and coffee?




Standards released for State firm buyouts




Fake milk powder severely sickens infant