Nations to make big difference to world
By Zhao Huanxin (China Daily)
Updated: 2005-04-13 05:42
NEW DELHI: Politically, culturally and economically, India and China, joined hand in hand, can make a big difference to the world, visiting Premier Wen Jiabao has told India's youth.
Blending his insights with quotes from late Indian leaders Jawaharlal Nehru and Mohatma Ghandi, poet Tagore, and 1998 Nobel economics laureate Amartya Sen, Wen called for the two nations to "advance hand in hand for a common future."
The speech, delivered to 1,000 students and faculty from the Indian Institute of Technology Delhi and other colleges, concluded Wen's eight-day South Asia tour that started in Pakistan on April 5.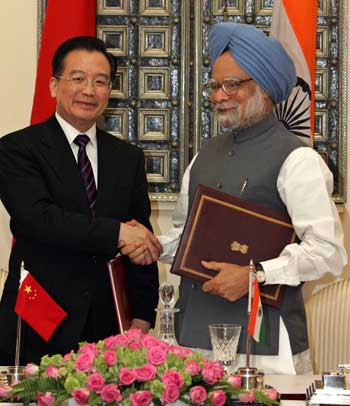 Chinese premier Wen Jiabao (L) and his Indian counterpart Manmohan Singh shake hands after the two countries signed agreements in New Delhi, April 11, 2005. Wen and Singh were due to agree on a roadmap to settle a decades-old border dispute on Monday, as the nuclear rivals aim to build a new "bridge of friendship". [Reuters]
"We are the world's largest developing countries, it is an unprecedented cause for us to usher one-third of the globe's population into modernization," he said.
The two will encounter problems along the course of their development, meaning they need, more than ever, to consult each other and learn from each other on an equal footing, he said.
Recalling the "Five Principles of Peaceful Co-existence" that late Chinese Premier Zhou Enlai and late Indian Prime Minister Nehru advocated in 1954, Wen said the guiding norms of international relations have contributed indelibly to safeguarding peace in Asia and the world at large.
Today, India and China have an ever larger responsibility in the world arena, he said.
A world with unfair and unjust political and economic order can not duly guarantee the legitimate rights and interests of developing countries, he said.
India and China are duty-bound to change the scenario, he noted.
The two countries should strengthen communication and co-ordinate their stance, to press together for the establishment of a fair and reasonable international political and economic order.
The premier said China attaches importance to the vital role of India in international affairs.
Premier Wen said China fully understands and supports India's aspiration to play an even bigger role in international affairs, including at the United Nations.
The Dogra Hall of the Indian institute exploded into applause at the premier's remarks.
Citing Mohatma Ghandi's "non-violence" and Chinese sage's saying that "harmony is most precious," Wen said India and China, with a fine tradition of "Oriental culture," have more roles to play in a world where power politics, terrorism, crimes and ecological degradation wreack havoc.
It is all the more meaningful for the two nations to take the lead in maintaining and multiplying the oriental cultural tradition, because harmonious relations, society and a peaceful environment are key to people's welfare and a nations' prosperity and progress, Wen said.
(China Daily 04/13/2005 page1)
Today's Top News
Top China News

Japan told to face up to history, reflect on protests




HK law staff consult on tenure of new CE




Nations to make big difference to world




Tourist attractions freeze prices, for now




Government warns over painkiller drugs




Argument hits new pitch at opera house