Iraq's president appoints Shiite as prime minister
(Agencies)
Updated: 2005-04-08 08:31
Shiite Muslim politician Ibrahim al-Jaafari on Thursday became Iraq's first prime minister chosen through a democratic process.
Kurdish leader Jalal Talabani named Jaafari, 58, to the post after Talabani was sworn in as the first non-Arab president of a predominantly Arab nation.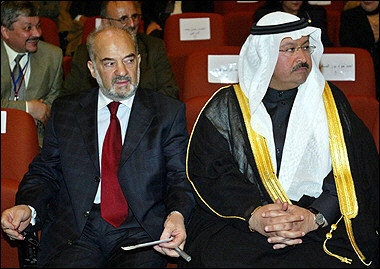 Incoming Iraqi prime minister Ibrahim Jaafari (L) sits with vice president Ghazi al-Yawer as Kurdish leader Jalal Talabani is sworn in as Iraq's president during a meeting of the National Assembly in Baghdad. [AFP]

The presidency is largely a ceremonial job; the prime minister wields more power. Al-Jaafari's principal responsibility will be to oversee the drafting of a permanent constitution by Aug. 15 and to prepare the country for fresh elections by the end of the year. Drafting the constitution in a fashion that protects the interests of Iraq's often-feuding ethnic groups - including the disaffected Sunni Muslim minority - while ensuring national unity promises to be an immense challenge.

Talabani and his two deputies took the oath of office in a ceremony that began with a reading from the Quran, delivered by a cleric from a conservative Shiite mosque in Baghdad.

In a speech after taking the oath, Talabani repeated the themes of national unity that the National Assembly, elected two months ago, has sounded while fighting behind closed doors to parcel out key posts and ministries among Iraq's three major ethnic groups.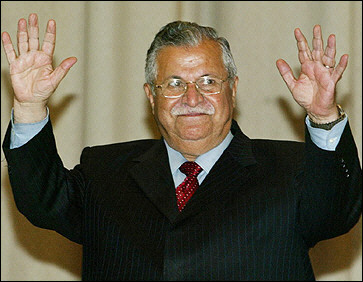 Veteran Kurdish leader Jalal Talabani raises his hands after being sworn in as Iraq's president during a meeting of the National Assembly in Baghdad. Talabani became the first non-Arab president of an Arab country. [AFP]

Sunnis, viewed as the backbone of the insurgency, make up 20 percent of Iraq's population but hold only 17 of the 275 National Assembly seats. The Kurds hold 75, though they too account for 20 percent of Iraqis. Many Sunnis stayed home from the Jan. 30 elections out of protest or fears for their safety in violence-wracked regions.

Interim Prime Minister Ayad Allawi, who was appointed last year by U.S. occupation authorities, resigned Thursday, although he'll stay on for a week or two in a caretaker role, until al-Jaafari appoints his Cabinet.

Al-Jaafari is a leader of the Dawa Party, an Islamist group banned by Saddam that once claimed responsibility for an attempt to assassinate his eldest son, Odai. Saddam's regime executed several of the party's leaders.

Today it's part of the United Iraqi Alliance, the bloc that rode the blessings of Shiite cleric Grand Ayatollah Ali al Sistani to a slight majority in the assembly.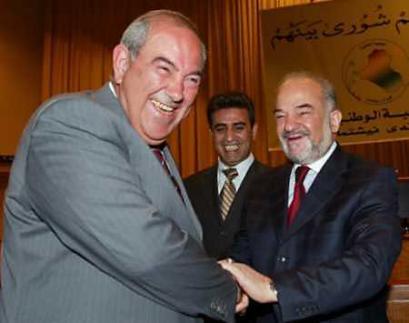 Outgoing Iraqi prime minister Iyad Allawi(L) greets incoming prime minister Ibrahim Jaafari(R) at a National Assembly meeting in Baghdad April 7, 2005. Jaafari announced his own nomination shortly after Iraq's new president, Kurdish former guerrilla leader Jalal Talabani, was sworn into office in parliament, along with two deputies. [Reuters]

Al-Jaafari grew up in the southern town of Karbala -in the shadow of the resting place of Shiite martyr Imam Hussein - and attended medical school in Mosul. He joined the Dawa Party, which at the time called for overthrowing Iraq's secular regime in favor of an Islamic state, in high school and was an undercover operative in his college days. The party engaged in tit-for-tat violence with Saddam during the 1970s, and al-Jaafari fled the country for Iran in 1980, then England. When he left Iraq, he took the name al-Jaafari for fear that his family name, al Eshaiker, would make it possible for Saddam's security forces to follow him.

Al-Jaafari's public comments more recently have called for national unity, and he's avoided any direct comment on his earlier advocacy of an Islamic state. His appointment has, nonetheless, raised fears among some Sunnis and Kurds that he may still wish to move Iraq in that direction.

Also on Thursday, shortly after dawn, armed men used homemade bombs to destroy a Shiite shrine in Latifiyah, south of Baghdad, said Jassim Ghanem, a spokesman for the police in Babil province.

In a statement posted on the Web, the group al-Qaida in Iraq claimed responsibility for the reported kidnapping of a senior Interior Ministry official who's active in anti-insurgent campaigns. The kidnapping couldn't be confirmed.




Today's Top News
Top World News

FM rebuts US threat of economic sanctions




Poll: American views on nation improving




EU guide on textiles 'violates WTO rule'




Tough task ahead to curb speculation




Boeing says insulation blankets 'no problem'




Beijing to see electricity price hike