Pakistan, China to sign trade deals during Wen visit
(Agenices)
Updated: 2005-04-05 16:18
ISLAMABAD - Chinese Premier Wen Jiabao is due to begin his first visit to Pakistan, during which the close allies will sign a raft of economic, trade and investment agreements, officials said.
Wen was due in Islamabad later Tuesday after he departed Beijing on his maiden South Asian tour as premier, a week-long swing through the economically important region that will also include trips to India, Bangladesh and Sri Lanka.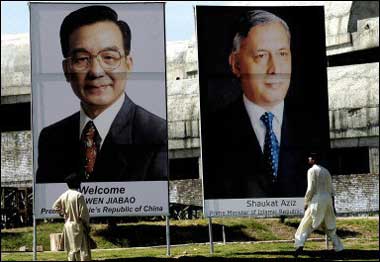 Two Pakistani men look at huge portraits of Pakistani Prime Minister Shaukat Aziz (R) and his Chinese counterpart Wen Jiabao (L) erected in front of the parliament in Islamabad. Wen was due to begin his first visit to Pakistan on his maiden South Asian tour as premier. [AFP]

In Islamabad Wen, accompanied by a 70-strong Chinese delegation of officials and businessmen, will deliver a keynote address to a 26-member forum of ministers from Asian and Middle Eastern countries, from April 6-7.

Wen, who assumed office in March last year, is also set to meet Pakistani military leader Pervez Musharraf and hold talks with Prime Minister Shaukat Aziz.

China is Pakistan's strongest ally and provides its neighbour with both development funding and weapons. On the eve of Wen's visit, Islamabad said it was buying four Chinese-built frigates for the Pakistani navy.

"The two countries are closely working to underpin their excellent political relationship with strong economic and trade ties," a Pakistani foreign ministry statement said.

The two countries are expected to reach agreements on building a nuclear power plant and deepening the Chinese-funded, multi-million dollar seaport at Gwadar on the Arabian Sea in southwest Pakistan.

Pakistani officials said a total of 18 agreements would be signed between China and Pakistan.

Aziz and Wen will address a business forum in Islamabad which will be attended by 400 Pakistani and over 100 Chinese businessmen.

Officials said Chinese businessmen were interested in investing in IT and telecoms, mining, oil and gas, engineering and agriculture.

Pakistan Investment Board chief Waseem Haqqi said Wen's visit was "totally focused on strengthening economic, trade and investment ties between the two countries".

He said around 31 Chinese companies were already operating in Pakistan in various fields.

China is also looking to Pakistan as a transit route for oil from the Persian Gulf region.

China is keen to keep Pakistan onside due to the Islamic republic's help in combating Muslim separatism in the northwest Chinese region of Xinjiang.

Officials in Beijing said the Chinese premier will discuss the ongoing cooperation between the two sides during his talks with Pakistani leaders.

"The visit is part of the continuing high level contacts which is the hallmark of Pakistan-China friendship," the Pakistani foreign ministry statement added.

"The two countries have established exemplary relations which are based on complete mutual trust, understanding, cooperation and sovereign equality."

However analysts say Wen will also seek to woo India during his four-nation tour, amid worries in Beijing about a changing geopolitical climate as the United States looks to boost New Delhi as a major power.

After leaving Pakistan on Thursday, Wen will spend one day in Bangladesh, another day in Sri Lanka, before heading to India on April 9 for four days.




Today's Top News
Top China News

Border row on agenda for Wen's India visit




Landmark KMT visit garners wide support




China tries to stem coal mine disasters




Drug crime rise sparks calls for crackdown




US may curb China clothing imports




Yasukuni visit sparks criticism in Taiwan