'Murdered' wife lives, proves husband's innocence
(China Daily)
Updated: 2005-04-04 00:45
After serving 11 years in prison for the murder of his wife, a "criminal" has been proved innocent following the appearance of his spouse with her second husband and son.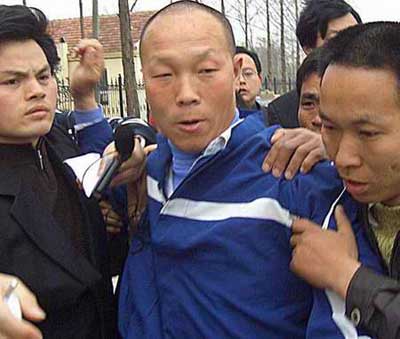 She Xianglin (C), 39, was released on Friday because of his wife Zhang's "rebirth." [sohu]

She Xianglin, 39, from Shayang County of Hubei Province, was released on Friday because of his wife Zhang's "rebirth," Xinhuanet website reported.

He said he will take legal action against the ruling that sent him to prison and seek compensation from the State for mental damage brought on by the conviction.

"I want those officials involved in my conviction punished," said She.

The provincial high people's court said all courts in Hubei Province should regard She's case as a lesson and deliver their rulings in accordance with the law and the evidence offered.

She's wife disappeared in 1994 after she suspected her husband of having an affair.

This had led to frequent quarrels and her suffering from a mental illness.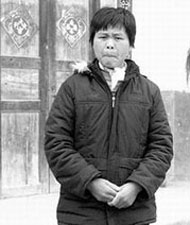 Zhang Yu, She's wife disappeared in 1994. [sohu]
The husband, a part-time patrol officer at a local police station in Jingshan County of the province, was suspected of murder after police found a female body near a reservoir in their hometown.
He was arrested despite the fact that the corpse was badly decomposed and could not be identified.
She's family believed he was innocent but the police and the court did not believe them. His wife's family insisted the husband had killed his spouse.
The local court sentenced She to death in 1994, but the provincial court did not approve that until the year after. In 1998, the ruling was changed to 15 years imprisonment for "intentional murder."
"At first, I insisted I was not the murderer. But later I could not bear the endless interrogation and I said I did it," said She, who is now in hospital.
Pictures on the website of Xinhuanet have shown She was severely beaten and had his legs and fingers broken while in jail.
The sentence was disastrous for She's family, who never stopped fighting for his freedom.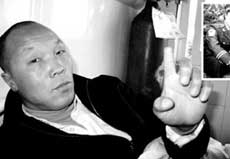 She Xianglin said he was tortured while serving in prison and shows that part of his finger was lost during the period.

His daughter dropped out of school. His brother, now in his 40s, did not marry because he devoted his energy to proving She's innocence. She's mother died after suffering from mental problems brought on by the prison sentence.

After Zhang left home in 1994, she went to Shandong Province. There she was cured of her mental problems and married a local villager. The couple have a 10-year-old son.

"I really didn't know what had happened to She, and I thought he would live a better life after I left," said Zhang, who was visiting her family after 11 long years.

She said he did want to see his wife because of the huge disaster caused by her disappearance.

"The story is too costly and disastrous. But I'm quite confident it will come out all right in the end," said She.

He said his daughter had helped him come through the tragedy.




Today's Top News
Top China News

'Murdered' wife lives, proves husband's innocence




Guessing game in battle for papal succession




Gov't urges increased mine safety spending




Vice-governor gets 12 years for taking bribes




Kuwait seeks strong oil ties with China




Ma Ying-jeou seeks rule over Nationalist Party