Ma Ying-jeou seeks chairmanship of KMT
(Agencies)
Updated: 2005-04-03 16:34
Taipei's popular mayor Ma Ying-jeou announced his bid for the leadership of Nationalist Party on Sunday.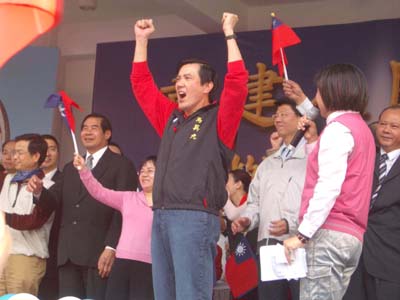 Taipei mayor Ma Ying-jeou cheers the audience as he formally announces his bid for the leadership of Nationalist Party on Sunday. [sina]


Ma Ying-jeou was cheered by about 3,000 supporters as he promised to reform the 109-year-old Nationalist Party.

The opposition hopes the handsome, articulate and savvy Ma will pump new life into the Nationalists.

"We need to stabilize relations with the Chinese Mainland because they affect our economy, our foreign and domestic policies," the 54-year-old Ma told supporters.

The Nationalists' 1 million members will elect a new chairman in May. Their current leader, Lien Chan, has said he will retire.

Ma pledged to seek reunification with China.

"I solemnly declare that Taiwan independence will never be an option for Taiwan," Ma said.

"As long as Taiwan does not push for independence ... we can push to sign a midterm agreement for 50 years of peace and economic cooperation," he said.

Most of Ma's support is in northern Taiwan, and he has sought to bolster his appeal by reaching out to voters in the rural south.

Ma will run in the party chairman election against the legislature's speaker, Wang Jin-pyng, a politician from the south who is popular with lawmakers.




Today's Top News
Top China News

'Murdered' wife lives, proves husband's innocence




Ma Ying-jeou seeks chairmanship of KMT




Guessing game in battle for papal succession




Gov't urges increased mine safety spending




Vice-governor gets 12 years for taking bribes




Kuwait seeks strong oil ties with China