Beijing offers talks with Taiwan ruling party
(Agencies/chinadaily.com.cn)
Updated: 2005-04-03 10:35
Beijing renewed an offer to hold dialogue with Taiwan's ruling party, seeking to ease tension with the island authorities which has been moving Taiwan towards formal secession from China.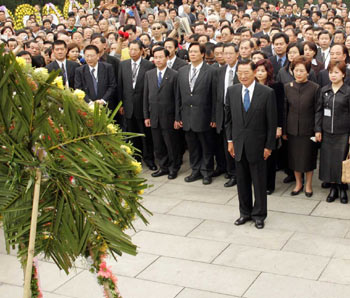 Chiang Pin-Kun, vice-chairman of the Taiwan-based Chinese Kuomintang party (KMT), prays during a visit to the Guangzhou Huanghuagang Martyr Cemetery March 29, 2005. The cemetery was in memory of martyrs killed in the Huanghuagang Uprising, led by Dr Sun Yat-sen, to overthrow the rule of the late corrupt Qing Dynasty (1644-1911) government in April of 1911. [newsphoto]


The overture came as a delegation from Taiwan's opposition Kuomintang (KMT), which ruled China for decades before losing a civil war and fleeing to the island in 1949, wrapped up a fence-mending trip to the mainland.

"So long as the Democratic Progressive Party (DPP) abandons its Taiwan independence platform and stops Taiwan splittist activities, we are willing to make a positive response and have contact with the DPP," Chen Yunlin, minister of Beijing's policymaking Taiwan Affairs Office, said in a statement.

Chen reiterated China's long-standing condition that talks be based on a 1992 consensus, in which Beijing and Taipei agreed to their own interpretations of the "one-China" principle.

"Our attitude is, so long as the one-China principle and the 1992 consensus are recognized, regardless of person or party or what he has said or done in the past, we are willing to discuss the development of cross-Strait relations to push for peaceful reunification," Chen said.

The 1992 consensus led to landmark talks and detente, but Beijing angrily broke off dialogue in 1999 when Taiwan's then-leader, Lee Teng-hui, redefined bilateral relations as "special state to state" ties.

Beijing Government and 1.3 billion mainlanders considers Taiwan a breakaway province, not a state, that should be reunified.

Beijing feted the KMT delegation led by vice-chairman Chiang Pin-kung and offered economic sweeteners to improve across-Straits relations.

"We have completed our ice-breaking trip, completed our bridge-building trip," the 72-year-old Chiang told reporters before leaving for home.

But Taiwan leader Chen Shui-bian said that any consensus reached between Beijing and the KMT was meaningless without his blessing.

Nonetheless, an opinion poll by Taiwan's private ERA cable news network found 52 percent of 987 Taiwan respondents believed the KMT visit had helped to soothe tension. Only 36 percent thought the trip was unhelpful, according to the survey.

Beijing's economic sweeteners struck at the heart of DPP's support base in primarily agricultural southern Taiwan, offering preferential policies for fruit and vegetable imports and inviting wealthy land-owning farmers to invest in the mainland.

Beijing also pledged to sign a pact to protect investment from Taiwan and agreed to push for more non-stop passenger charter flights during holidays and opening direct cargo charter flights.

Taiwan investors have poured up to $100 billion into the mainland and clamoured for direct passenger and cargo flights, which is being banned by Taiwan authorities. Currently, mainland-Taiwan flights are routed mainly through Hong Kong.




Today's Top News
Top China News

Indian PM keen on building strong ties with China




Pope John Paul II dies, world mourning




China bans poultry imports from N. Korea




Bank of China reveals loan scam details




Punishment won't hurt Taiwan company




Rate hike worry spurs mortgage repayments