Pope John Paul II dies, world mourning
(Agencies)
Updated: 2005-04-03 08:36
Pope John Paul II, whose globetrotting papacy inspired millions but left a divided Church, died on Saturday, ending years of painful physical decline for the Polish prelate once known as God's Athlete.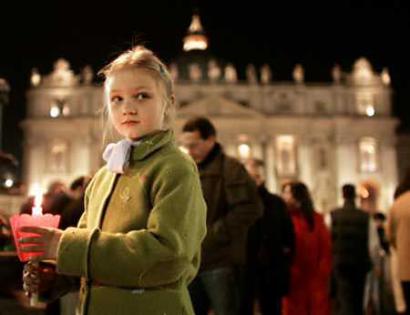 A girl holds a candle during a night vigil in Saint Peter's Square at the Vatican April 2, 2005. Pope John Paul II, the Pole who headed the Roman Catholic Church for 26 years, died on Saturday evening, the Vatican said. [Reuters]
"Our beloved Holy Father John Paul has returned to the house of the Father," said Archbishop Leonardo Sandri, announcing the death to a huge crowd that had gathered under the Pontiff's windows to pray for a miraculous recovery that never came.
The Vatican said the Pope, who reigned over the world's 1.1 billion Catholics for more than 26 years, died in his apartments at 9:37 p.m. (1437 EST), surrounded by his closest Polish aides.
As the news spread through Rome, thousands of faithful streamed to the Vatican to join those already there.The slow mourning toll of one of the great bells of St. Peter's Basilica made the only sound to cut the stunning, tearful silence in the Vatican.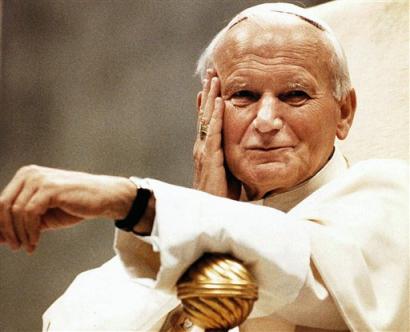 Pope John Paul II smiles from his papal throne, in this May 16, 1990 file photo, during his weekly general audience, two days prior to his 70th birthday on May 18th. Pope John Paul II died on Saturday, April 2, 2005. [AP/file]
The exact cause of death was not immediately given but the Pope's health had deteriorated steadily over the past decade with the onset of Parkinson's Disease and arthritis. Earlier this year it took a sharp turn for the worse.
He had an operation in February to ease serious breathing problems, but never regained his strength and last Thursday developed an infection and high fever that soon precipitated heart failure, kidney problems and ultimately death.
"The world has lost a religious leader who was revered across people of all faiths and none. He was an inspiration, a man of extraordinary faith, dignity and courage," said British Prime Minister Tony Blair.
Just two hours after his death, around 130,000 people were in St. Peter's Square, police estimated.
Necks craned up toward the lighted windows of the Pope's apartments where his once vigorous body lay.
"I can't believe that's it. I know God will provide a new Pope but we'll miss him so much," said Adrian McCracken, an Irishman who kept pressing his fingers against his eyes and apologizing for crying.
The Vatican announced that the Pope's body would lie in state for public viewing in St. Peter's Basilica from Monday afternoon at the earliest. No date was set for a funeral, but it was not expected to happen before Wednesday.
Italy announced three days of national mourning, while his native Poland will hold six days.
Vatican Secretary of State Angelo Sodano will say a Requiem Mass for the Pope on Sunday at 10.30 a.m. (0430 EDT) in St. Peter's Square.
The conclave to elect a new Pope will start in 15 to 20 days, with 117 cardinals from around the globe gathering in the Vatican's Sistine Chapel to choose a successor.
There is no favorite candidate to take over. The former Archbishop Karol Wojtyla of Krakow was himself regarded as an outsider when he was elevated to the papacy on Oct. 16, 1978.
In his native Poland bells rang out across the country and sirens wailed in the capital Warsaw as news of the Pope's death dashed any lingering hopes of a miraculous recovery.
"I am overwhelmed by pain. I have prayed for two days and thought that a miracle will happen, but it didn't happen and now we can only weep," said Teresa Swidnicka in Krakow.
Wojtyla, who saw his country occupied by the Nazis in his late teens, cut his teeth as a clergyman when Poland was run by atheist pro-Soviet communists after World War II.
Apart from his battle against communism, John Paul will be remembered for his unswerving defense of traditional Vatican doctrines, drawing criticism from liberal Catholics who opposed his proclamations against contraception, abortion, married priests and women clergy.
Chinese Catholics sends condolence mourning Pope
The Catholic Patriotic Association of China and the Chinese Catholic Bishops College sent a telegram Sunday morning to Vatican to express "deep condolence" over the demise of Pope John Paul II.
"It is very sorrowful to know that Pope John Paul II has passed away at the call of God, to rest in Lord for good," the telegraph reads. "It would be a great loss for the pastoral and evangelical works of the Universal Church."
"We sincerely express our deep condolence, on behalf of more than 5 million clergies and faithfuls of the Catholic Church in China, and pray God grant him an eternal reward," it reads.
Today's Top News
Top World News

Indian PM keen on building strong ties with China




Pope John Paul II dies, world mourning




Ma Ying-jeou seeks rule over Nationalist Party




China bans poultry imports from N. Korea




Bank of China reveals loan scam details




Beijing offers talks with Taiwan ruling party