Villagers allowed home after leakage handled
By Song Wenwei (China Daily)
Updated: 2005-04-02 05:52
NANJING: Most of the villagers evacuated after Tuesday's deadly chemical spill were allowed to return home on Friday night, sources said.
The accident, which occurred on the Huai'an section of the Beijing-Shanghai expressway in East China's Jiangsu Province, was caused by a flat tyre when a tanker carrying 35 tons of liquid chlorine collided with a cargo truck. The vehicles overturned and the cargo truck driver was killed on the spot.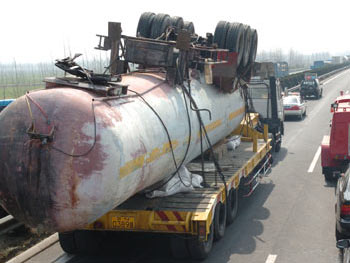 The tanker, which collided on Tuesday with a cargo truck causing liquefied chlorine to spill out, is winched away. [newsphoto]
After three days of continuous and close monitoring of the contaminated area, environmental workers confirmed the air quality in most of the affected areas was within safety limits and would not harm people or livestock.
Of around 10,000 villagers evacuated from the spot, most, who had stayed with their relatives and friends, went back home on Friday night.
Only residents of one village, which lies about 150 metres from the spot of the accident, remain unable to return to their homes.
Those who went home were given advice on to how to deal with contaminated items and belongings in their houses and told to contact related departments in case of unexpected problems.
The death toll so far has risen to 29 and medical workers from Shanghai, Nanjing and other cities are still treating 343 injured people in four local hospitals. Of the injured, a few remain in a critical condition and in intensive care, but some are expected to leave hospital on Saturday.
To completely cut off all possible sources of continued contamination, rescue workers buried all dead livestock and contaminated objects deep in designated areas. The tanker was removed to a chemical factory for further treatment.
Sun Huashan, deputy director of State Administration of Production Safety, said that all contamination sources have been eliminated and the area is now safe.
Li Yuanchao, secretary of Communist Party Committee of Jiangsu Province, has visited both the scene of the crash and victims in hospital. He asked the local government to do their best to take care of the people and their homes.
Local insurance companies have also started compensation procedures to provide financial relief for the victims .
Damage to the surrounding farmland, covering an area of 1,375 hectares, is quite serious.
Local people say it is possible the land will be unusable for some time.
It is estimated that the accident has caused a loss of property and life worth 29 million yuan (US$3.6 million).
(China Daily 04/02/2005 page2)
Today's Top News
Top China News

Premier's India trip to discuss border disputes




Punishment won't hurt Taiwan company




Rate hike worry spurs mortgage repayments




Vatican: Pope John Paul II near death




City funds heavily on historic sites renovation




Villagers allowed home after leakage handled