Rate hike worry spurs mortgage repayments
By Su Bei (China Daily)
Updated: 2005-04-02 05:56
A central bank's recent decision to raise mortgage rates has given Beijing resident Xu Jie a good reason to keep busy.
With the aim of paying off his mortgage ahead of time to avoid too much interest, he sold all his treasury bonds during the past several days, and even went to his close relatives to borrow money.
Xu, 32, who lives in Dongcheng District, said that successive interest rate hikes have forced him to take action.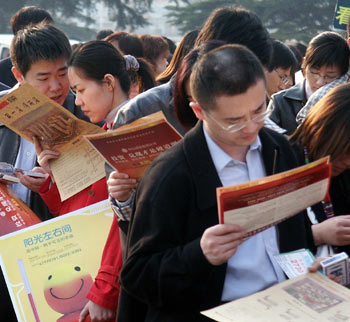 Residents read property leaflets while waiting for the opening of a property exhibition in Beijing in this picture taken on March 26, 2005. [newsphoto]
"The mortgage rate is too high, but the rate for savings is too low," he said.
Like Xu, many other people have paid or plan to pay their mortgages ahead of schedule.
Media reports claimed on Friday that major banks, including the Bank of China and the China Construction Bank, had planned, or have even begun, to charge those who have paid off their mortgages ahead of time because they are worried it will have an impact on their profits.
Officials at both banks denied the reports, but confirmed that the number of people who have paid off their loans ahead of time has increased since last October.
The People's Bank of China announced last October that it would raise mortgage rates by 0.27 percentage points for the first time in nine years in a move partly to curb speculative house buying.
On March 16, the central bank announced further measures to tighten housing loans to achieve a similar aim.
The interest rate on loans longer than five years was raised by 20 base points to 5.51 per cent.
Down payments for home buyers in cities where lenders believe real estate prices have been rising too fast could be raised from 20 per cent to 30 per cent of house prices.
"It is reasonable that home buyers pay loans ahead of time," said Niu Li, a senior economist with the State Information Centre. "If they have extra money, why not?"
Meanwhile, the interest rate hike has increased people's expectations that the central bank may further raise the rate, which would increase their financial burden, he said.
Wang Zhao, a senior researcher with the State Council Development Research Centre, said people's attempts to pay their loans early suggests the real estate market is sensitive to interest rate changes.
"The central bank's decision should help cool the country's real estate market," he said.
China's average house price rose by 14.4 per cent last year, despite the fact that the government has taken a raft of measures to cool the market.
Officials and economists agree there are bubbles in the housing sector, especially for luxury homes.
They believe this boom could result in a series of economic problems if the government does not deal with it properly.
According to Niu, the housing market in some cities such as Shanghai, Hangzhou and Ningbo is in danger of over heating.
But this is controllable, he said.
Liao Yingmin, a researcher with the Development Research Centre, said the rise in China's house prices will stabilize this year.
The government has already decided to curb demand.
It has decided to increase the supply of medium- and low-priced housing, she said.
It has also decided to develop the sale of non-new homes this year.
However, Liao admitted that strong demand would continue to push up house prices.
China's housing market has already become a growth area for the country's economic development.
(China Daily 04/02/2005 page5)
Today's Top News
Top China News

Premier's India trip to discuss border disputes




Punishment won't hurt Taiwan company




Rate hike worry spurs mortgage repayments




Vatican: Pope John Paul II near death




City funds heavily on historic sites renovation




Villagers allowed home after leakage handled