Indian PM keen on building strong ties with China
(Agencies)
Updated: 2005-04-02 05:52
India's prime minister said Saturday that India and China should join hands to build an international political and economic order.
"As the world becomes increasingly interdependent, it is important for our two countries to join hands to harness the positive forces of globalization and safeguard the interests of the developing countries," Prime Minister Manmohan Singh said in a letter to his Chinese counterpart.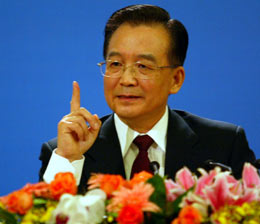 Premier Wen Jiabao [newsphoto/file]

The letter commemorating the 55th anniversary of the establishment of diplomatic ties between India and China comes a week before Chinese Premier Wen Jiabao's visit to India.

Wen's four-day trip to India, starting April 9, is expected to outline principles to resolve the decades-old boundary dispute between India and China which led to a war in 1962.

Both countries are also likely to sign more than a dozen agreements aimed at promoting political, economic and cultural ties during Wen's visit.

"Both India and China share the aspiration to build a just, equitable and democratic international political and economic order on the twin pillars of multi-polarization and multilateralism," Singh's letter said.

The sustained growth and diversification of India-China relations in recent years reflected their common commitment to take the bilateral relationship to "new heights, while proactively addressing our differences in a fair, reasonable and mutually acceptable manner," he said.

"As two of the world's largest developing economies, the tasks that we face are profound, but our determination is resolute," Singh said.

India and China share a mountainous 1,030-kilometer (650-mile) border, parts of which have not been demarcated. The two countries have agreed to resolve the border issue through ongoing talks and not let it get in the way of expanding trade and bilateral ties.

China and India may agree on guiding principles to help them resolve their border disputes during Premier Wen Jiabao's visit to New Delhi, Vice-Foreign Minister Wu Dawei said on Friday.

The current border dispute does not stand in the way of developing friendly and co-operative relations between the neighbours, Wu told a press conference four days before Wen will embark on his four-nation South Asian tour.

The premier's eight-day trip, starting on Tuesday, will take him to Pakistan, Bangladesh, Sri Lanka, as well as India.

The visit aims to enhance mutual trust, deepen friendship, expand co-operation and plan the future in the spirit of "being a good neighbour and a good partner," Wu said.

While the premier is in India, representatives from the two countries will meet to iron out principles regarding their differences over their borders, the vice-minister said.

"The Sino-Indian border has remained tranquil with no confrontation or military action since 1993," Wu said. "This is no little feat."

But final resolution of the question will take time, and entails efforts by the two governments based on political principles, he said.

Wen's agenda in India may also include discussions on Tibet. He will visit India's technology hub Bangalore and address a leading university, according to Wu.

On his visit to Pakistan, the premier is expected to discuss enlarging bilateral economic and trade collaborations and to sign a number of agreements, Wu said.

The premier will give a keynote speech at the fourth ministerial meeting of the Asian Co-operation Dialogue, which was established in 2002.

Premier Wen will also take part in activities to mark the 30th anniversary of diplomatic relations with Bangladesh, the vice-minister said.

The official said China is delighted to see a marked improvement in relations between India and Pakistan.

"We hope the two sides will continue to talk and settle their disputes and historical problems through dialogue, thus contributing to the peace, stability and development of the South Asian region," he said.

There exist broad common interests between China and South Asia, and both have similar development goals, Wu added.

"China hopes to see a big South Asian family enjoying peace, prosperity, solidarity and security," he said.

China supports larger role for India at UN

China supports a bigger role for India in the United Nations and the UN Security Council, China's ambassador to New Delhi said Friday.

"We would like to see India play a bigger role at the UN as well as the Security Council," said China's envoy to New Delhi, Sun Yuxi, on Friday.

But Sun stopped short of expressing any direct support for India's candidature for a permanent UN Security Council seat.

"People in the UN are now discussing it (expansion of the UN Security Council)... there are many different ideas...I don't want to make any specific remark on that... I don't want to influence it in any way," he said.

Japan, India, Germany and Brazil have launched a joint bid to win permanent seats on the Security Council. Veto-wielding power is currently in the hands of five powers -- Britain, China, France, Russia and the United States -- in a system rewarding the winners of World War II.

Meanwhile, Sun said the border between India and China, which has been at the heart of a decades-old dispute, should become a "bridge" for friendship between Asia's two most populous countries.

"Our major effort is to keep our border as peaceful and tranquil areas," Sun said.

"We have a common border. We want that the border becomes a bridge for exchanges and friendship," he said.




Today's Top News
Top China News

Indian PM keen on building strong ties with China




Pope John Paul II dies, world mourning




Ma Ying-jeou seeks rule over Nationalist Party




China bans poultry imports from N. Korea




Bank of China reveals loan scam details




Beijing offers talks with Taiwan ruling party