U.S. military weighs changes on Guantanamo
(Agencies)
Updated: 2005-03-29 09:55
The U.S. military is considering making substantial changes to the tribunals used to prosecute terror suspects held at Guantanamo Bay in order to strengthen the detainees' rights, Pentagon officials said Monday.
U.S. military lawyers are reviewing several versions of a draft manual that has been circulating for months, two officials said on condition of anonymity.
"There isn't a final product," one official said.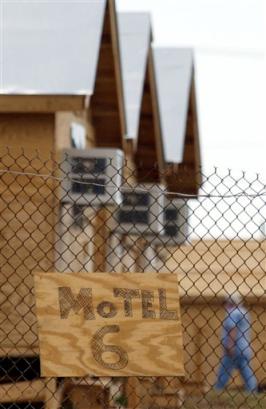 A handmade wooden sign reading 'Motel 6' is hung on the fence of Camp Alpha in the U.S. Naval Base at Guantanamo Bay, Cuba in this April 7, 2002 file photo. [AP/file]

The comments came a day after The New York Times first reported the draft manual's existence. The manual, which is more than 200 pages long, proposes prohibiting confessions obtained by torture and hiring more independent judges to direct the tribunals, which are formally called military commissions, officials said.

The draft suggests making the commissions conform to a system of justice applied to U.S. soldiers in court martials, the officials said.

A spokeswoman for the commissions, Lt. Susan McGarvey, said military officials are always searching for ways to improve the commissions process, but she did not confirm the manual's existence.

Some officials say the manual is premature because federal judges are trying to sort out detainee rights following a U.S. Supreme Court ruling last summer that federal courts are open to appeals on behalf of foreigners held at the Guantanamo naval base.

In addition, it is unclear whether the U.S. government would support the proposed changes since the government contends the prisoners are dangerous "enemy combatants" who, because they are foreigners, are not entitled to the same constitutional protections as Americans.

President Bush signed a military order in November 2001 authorizing the military commissions and promised they would be fair. Human rights groups and foreign leaders have since criticized the process, saying detainees are denied many due process rights, including hearing all evidence against them.

About 540 people from 40 countries are being held at Guantanamo, most for more than three years. They are suspected of having links to al-Qaida or the ousted Taliban regime in Afghanistan. Only a handful have been charged.




Today's Top News
Top World News

Indonesian VP: Quake may kill up to 2,000




KMT leader in Guangzhou for historic visit




China's shares hit 6-year low




Scientists honoured at State awards




Woman takes helm of State forex office




Bush OKs first national counterintel plan