Syria pulls 2,000 more troops from Lebanon
(Agencies)
Updated: 2005-03-29 08:49
Syria has cut back its troops in Lebanon to the lowest level in three decades as 2,000 more soldiers returned home in recent days, the Lebanese military said Monday.
The move put Damascus on track to have all its forces out of Lebanon before parliamentary elections in May, meeting a key U.S. and U.N. demand.
Despite the troop withdrawal, pressure mounted on Syria and the allied Lebanese government to complete the pullout quickly, hold elections on time and cooperate with an international inquiry into former Lebanese premier Rafik Hariri's Feb. 14 assassination.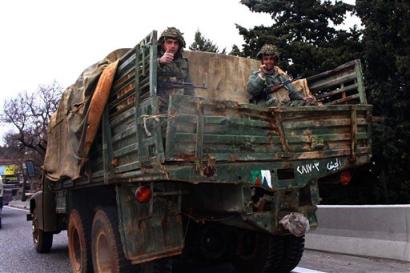 Two Syrian soldiers sit on their military truck carrying ammunition enroute to the Syrian border in Bekaa Valley east of Beirut, Lebanon, Sunday March 27, 2005. Syrian troops vacated positions in eastern Lebanon Sunday. Some 35 military trucks loaded with soldiers, equipment, ammunition boxes and some towing 14 antiaircraft guns crossed into Syria at the Masnaa border crossing in eastern Lebanon late Sunday, witnesses said. [AP]

Lebanon's acting Foreign Ministry chief, Butros Asaker, flew to New York for a United Nations Security Council session aimed at forming an international inquiry into Hariri's killing.

Lebanon has grudgingly agreed to go along with a U.N.-led inquiry, which has the potential to embarrass both authorities in both Syria and Lebanon, who many Lebanese accuse of involvement in Hariri's death. Both governments deny the accusations.

A U.N. fact-finding mission criticized Syria for creating the conditions for Hariri's death and poured scorn on the Lebanese investigation into the killing.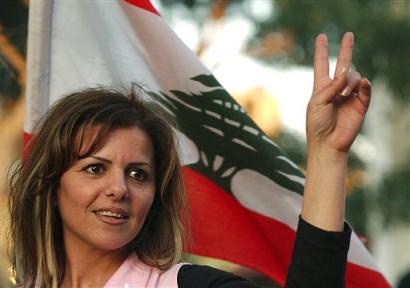 A Lebanese flashes a victory sign during a pro-opposition demonstration in Beirut, Lebanon, on Monday, March 28, 2005. Syria has withdrawn 2,000 more troops from Lebanon, a military official said, bringing Damascus' military presence in the country to the lowest level since it began three decades ago.[AP]

Some 5,000 women staged a noisy march in downtown Beirut demanding Syria end its control over Lebanon, which stretches back to the early stages of this country's 1975-90 civil war.

"Syria get out of Lebanon," the women shouted while walking about a half mile from the seafront street where Hariri's motorcade was blown up to his grave in Martyrs' Square.

Syria is believed to have about 8,000 soldiers still in eastern Lebanon following the withdrawal of 2,000 soldiers in recent days, a Lebanese military official said on condition of anonymity. Immediately before Hariri's death, about 14,000 Syrian soldiers were in Lebanon. At their peak in the 1980s and 1990s, they numbered about 40,000.

Also Monday, Syrian soldiers dismantled eight positions near the eastern city of Baalbek, while about 15 miles to the north, in Chaat, more troops loaded equipment into 10 trucks, each towing an anti-aircraft gun.

The Lebanese military official said the Lebanese-Syrian Military Commission will meet next week to agree on the second phase of the military withdrawal, which is expected to see the complete removal of Syrian forces from Lebanon. About 4,000 soldiers left in the first phase that ended March 17.

Lebanon's pro-Syria defense minister, Abdul Rahim Murad, said the pullout will continue "until all the Syrian army has entered Syrian territory."

The United Nations and Washington are demanding a full Syrian withdrawal before Lebanese parliamentary elections due to begin in April and go through May.

"Syria wants to push away any possibility of being a target" for U.S. or international pressures, Syrian political analyst Imad Fawzi al-Shueibi said.

Visiting U.S. envoy David Satterfield said the elections must be held on time, with monitoring by international observers.

"We have said many times that the international community wishes to see Lebanon move forward in a political process which leads rapidly to elections as scheduled," Satterfield told reporters.

Opposition leaders blame Syria for three bombings that rocked Lebanon last week that killed three people, injured more than 15 and raised fears of renewed sectarian bloodshed. They argue Syrian leaders want to sow fear as their troops leave Lebanon.




Today's Top News
Top World News

Indonesian VP: Quake may kill up to 2,000




KMT leader in Guangzhou for historic visit




China's shares hit 6-year low




Scientists honoured at State awards




Woman takes helm of State forex office




Bad habits anger Beijing residents