Cambodian man confirmed dead from bird flu
(Agencies)
Updated: 2005-03-24 15:52

A 28-year-old Cambodian man has died of bird flu at a hospital in Phnom Penh becoming the country's second victim of the virus, the health minister said.

The victim, Meas Ran, came from Kampot province which borders Vietnam and his village Tram Sasor is 20 kilometres away from the home of the first victim, who died in January after travelling for treatment to Vietnam.

"The tests show that the man had H5. It is in the bird flu group (of viruses). We sent a sample on Wednesday to France for further confirmation," Health Minister Nuth Sokhom told AFP as he travelled to Kampot province.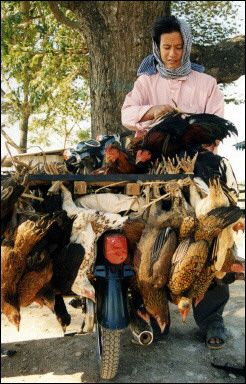 A chicken seller hangs birds on his motorcycle before heading to a Phnom Penh market.[AFP/File]

The victim died on Tuesday, he said.

Director of the Pasteur Institute in Phnom Penh, Jean-Louis Sarthou, told AFP that "it couldn't be anything else except H5N1," and said that the sample was being sent to France merely as a formality.

The minister said between 400 and 500 chickens and ducks had died in the village but it was not known if Meas Ran, who worked as a travelling businessman and occasionally went to Vietnam, had been in contact with them.

He added that eight people who had been in contact with the victim had been tested for bird flu but cleared.

Nuth Sokhom said he was travelling to Kampot to help try to educate people about the disease, which has killed 34 people in Vietnam and 12 in Thailand. Both countries are neighbours of Cambodia.

Sarthou said that epidemiologists from the Pasteur Institute had been sent Thursday to the village to investigate.

Hospital staff who were in contact with the victim had also tested negative, he said, but pointed out that experts were still unsure over the exact incubation period of the bird flu virus.

"There are no other suspected cases in Cambodia," he said, adding that the new case was not overly alarming.

"We've always thought that if there were cases in the Mekong delta (in Vietnam) then there would be more on this side of the border," he said.

He noted monitoring and surveillance in Cambodia had improved dramatically since last year.

"In the whole of Kampot, even the smaller dispensaries know what they have to do (if they treat someone with symptoms) because there have been many missions from health officials," he said.

Yim Voeunthan, secretary of state at the ministry of agriculture, said more than 600 chickens had died in six villages in Kampot in the last 20 days and a further 100 had been culled Wednesday.

Eight samples of chickens from the area were being tested and Yim Voeunthan expected the results to be back later Thursday.

"Villagers were eating the dead chickens even through we warned them not to... Now the villagers are afraid. They dare not eat chicken anymore."

The transportation of poultry in and out of the district was banned, he added.

Directors of the eight Pasteur Institutes from across the Asia-Pacific region -- Shanghai, Hong Kong, Seoul, Noumea, Ho Chi Minh City, Hanoi, Nha Trang and Phnom Penh -- were meeting in the Cambodian capital on Monday.

They would work to update and standardise their diagnosis methods for bird flu, Sarthou said.

The World Health Organisation said last week it was working with the health ministry on a public education campaign to fight bird flu to be funded by 40,000 dollars from the agency.

Until now, only 2,500 dollars has been spent on education in the predominantly agricultural kingdom of 13 million people.

Health experts have warned that the H5N1 virus could lead to a pandemic if the virus mutates and can be easily transmitted between humans.

A variation of bird flu was blamed for the deaths of as many as 40 million people worldwide in 1918.




Today's Top News
Top World News

'Three-good' student system under revision




Japan's bid for UNSC seat opposed




Beijing unveils security plan for Olympics




Hu: Nation willing to restart nuke talks




EU official calls China embargo 'unfair'




Watchdog investigates baby oil fears