Beijing to abolish regulation on migrant workers
(criengllish.com)
Updated: 2005-03-23 10:41
Beijing's regulation for management of migrant workers and businessmen to the city will be abolished as it has been incompatible with the times.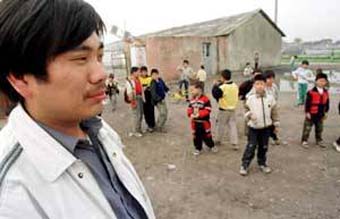 Beijing is to abolish regulation on migrant workers and businessmen to the city.It is estimated that more than four million migrant workers are settling in Beijing.[baidu.com]


As learned from the Standing Committee of Beijing Municipal People's Congress on March 21, the examination and voting on rescinding the regulation will be held during March 24 and 25.

The local rule which took into effect in 1995 was proposed to be abolished as "its major systems have been incompatible with the reality", and its main content has run against the state relevant policies and Administrative Licensing Law.

Based on the State Council's documents on protecting the lawful rights and interests of migrant workers, Beijing has made adjustments in its management over the employment of migrant workers, including canceling the employment card and limitations on migrant people's businesses.

According to sources from the law office of the People's Congress of Beijing, rules on the residence registration, security of house for renting and family planning of floating populatoin will be covered by relevant regulations of the municipal government.

Among the 11 legislative items of the People's Congress of Beijing, focuses will be set on the regulations on protecting historical and cultural relics, food safety, safety of large-scale social gathering and removal of houses on collective-owned land.

Beijing will also revise in September its measures for implementing the Law of the People's Republic of China on the Protection of the Rights and Interests of Returned Overseas Chinese and the Family Members of Overseas Chinese.




Today's Top News
Top China News

Pak: DPRK ready to return to nuclear talks




EU urged to lift 'outdated' arms embargo




Official on trial for selling high-level jobs




Thirsty countryside demands safe water




Beijing makes a perfect FORTUNE forum




Textile firms to take EU ruling to WTO