Israel completes handover of Tulkarm in W. Bank
(Agencies)
Updated: 2005-03-22 23:46
Israel completed its handover of the town of Tulkarm to Palestinian control on Tuesday, unlocking a gate and allowing traffic to flow freely to the rest of the West Bank for the first time in three years.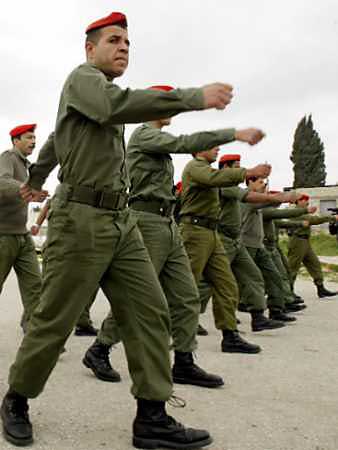 Palestinian security forces participate in a training session, as part of preparations for Israel's handover of the West Bank city of Tulkarm March 21, 2005. Israel agreed to give security control of Tulkarm to Palestinians after both sides ended a dispute that had delayed the handover, Israel Radio said. [Reuters]
The Israeli pullback from Tulkarm, days after Palestinians regained the West Bank town of Jericho, was a gesture to Palestinian President Mahmoud Abbas, who won a deal with militants last week to extend a de facto truce.
On the Israeli political front, Prime Minister Ariel Sharon was expected to cross a key hurdle for a final vote on the state budget that he must push through parliament or face an election that would threaten his Gaza pullout plan.
Surrounded by television cameras, Israeli and Palestinian commanders stood before a yellow metal gate on the eastern outskirts of Tulkarm and shook hands to seal a handover that began on Monday night with deployment of Palestinian police.
Israeli troops had maintained the checkpoint outside Tulkarm, a city of 50,000 people near the West Bank border with Israel, during much of a 4-1/2-year-old Palestinian uprising.
Israel had promised on the eve of a Feb. 8 peace summit to transfer security responsibility for five West Bank cities and towns, but the process was delayed by disputes over security and a suicide bombing at a Tel Aviv nightclub last month.
The transfer began when Palestinian police took up positions as gunmen fired in the air and car horns honked in celebration.
The deal calls for Palestinian security forces to keep militants in check. Israel, in return, has agreed to end army raids and ease restrictions on movement to and from the town.
Israeli officials say they expect to deliver the town of Qalqilya, south of Tulkarm, to Palestinian control next week.
Israel had gradually withdrawn from Palestinian cities in the West Bank under an interim peace accord reached in 1993.
But its troops surrounded many West Bank cities anew, including Jericho and Tulkarm, following a series of Palestinian suicide bombings against Israelis at the height of the uprising.
Peace hopes have risen since Abbas, a moderate elected on Jan. 9 to replace the late Yasser Arafat, declared a ceasefire along with Sharon at a summit in Egypt last month.
KEY PARLIAMENTARY VOTE
Sharon has won international backing for his plan to remove settlements from occupied Gaza this summer, but he still faces obstacles erected by ultranationalists opposed to any withdrawal from lands captured by Israel in the 1967 Middle East war.
If he fails to win parliamentary approval for the 2005 state budget by March 31, he must call early elections for the end of June, which could delay or even shelve his Gaza plan.
Sharon was expected to win a key vote by the parliamentary Finance Committee in favor of the budget on Tuesday, sending it to the full legislature next week. But he was still scrambling to muster a majority for final approval.
The committee session followed a tense night of political infighting within Sharon's rightist Likud party, which is sharply divided over his intention to evacuate all 21 Jewish settlements in Gaza and four of 120 in the West Bank.
Likud party rebels on the Finance Committee had threatened to block the budget and it appeared Sharon would have had no choice but to boot them off the panel and replace them.
But such a move could have torn Likud apart.
Under a compromise, Likud rebels agreed to back the budget in the committee in return for support from pro-Sharon Likud legislators in another parliamentary panel for a proposal to hold a national referendum on the Gaza "disengagement."
Sharon opposes a referendum, calling it a delaying tactic.
Political commentators, while noting the compromise was approved over Sharon's objections, said the referendum proposal stood almost no chance of winning full parliamentary approval.
Today's Top News
Top World News

Pak: DPRK ready to return to nuclear talks




EU urged to lift 'outdated' arms embargo




Official on trial for selling high-level jobs




Thirsty countryside demands safe water




Beijing makes a perfect FORTUNE forum




Textile firms to take EU ruling to WTO