Two tornadoes strike Bangladesh; 37 dead
(Agencies)
Updated: 2005-03-22 08:58
Two tornadoes tore through northern Bangladesh late Sunday, killing at least 37 people, injuring nearly 1,000 and leaving thousands homeless, officials said Monday.
The tornadoes struck almost simultaneously in the same region, blowing away huts in dozens of farming villages in Gaibandha and neighboring Rangpur districts. One tiny village was almost completely obliterated.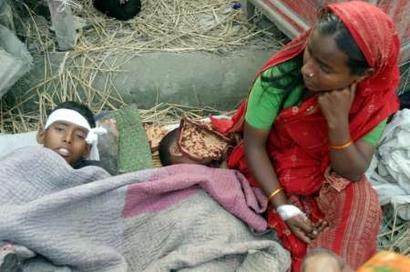 A Bangladeshi mother takes care of her children injured in a storm in the district of Gaibandha, about 300km (200 miles) from the capital Dhaka, March 21,2005. At least 37 people were killed and 1,000 injured in the violent tropical storm that whipped through northern Bangladesh on Sunday night.[Reuters]

One tornado killed at least 33 people, including women and children, and injured 800 in two areas of Gaibandha district, 120 miles north of the capital, Dhaka, the local administrator's office said. The tornado flattened about 700 mud and straw houses. Rescue teams were dispatched to the area.

A second tornado swept through neighboring Rangpur district, killing at least four people and injuring about 200, police said. Nearly 500 flimsy huts also were destroyed.

In the village of Khamar Doshalia in Gaibandha district, 23 people died and almost all the 900 homes there were leveled, local administrator Saifullahil Azam said. A village headman said 26 people had died.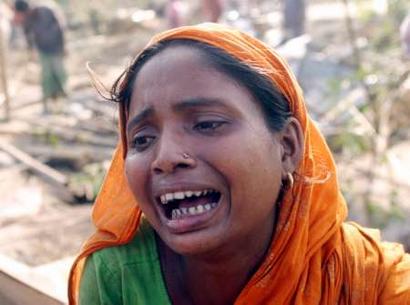 A woman cries as she mourns the loss of her son who died in a storm at a village in the northern Bangladeshi district of Gaibandha, 300 km (200 miles) from the capital Dhaka, March 21 ,2005.[Reuters]

"I was outside when I heard a loud noise," villager Alim Uddin said as he buried his 70-year-old mother. "I hurried back, but my home was blown away within seconds. Later, I found my mother's body under a wall."

Many in the village lost families, cattle and crops as well as their homes. Families huddled together under open skies with whatever was left of their belongings.

"We were having our dinner when the storm smashed everything within seconds," said Fahim Uddin, who lost his only daughter. "I have lost everything. Allah, also take me from this world!"

Five others died in a village nearby Khamar Doshalia, local official Ahsan Kabir said.

At least 70 victims were hospitalized in serious condition with head and chest trauma and limb injuries, surgeon Habibur Rahman said.

The Ministry of Food and Disaster Management has sent emergency supplies ¡ª including rice, biscuits and building materials ¡ª to the tornado-hit areas, the government said.

The tornadoes blew away or leveled thousands of trees and electricity poles, plunging villages into darkness and hampering rescue work, said Mahbubul Islam of Rangpur.

Tropical storms are common in Bangladesh, a delta nation of 140 million people. In April, tornadoes in northern Netrakona district killed at least 74 people and injured nearly 1,000 others, authorities said.




Today's Top News
Top World News

China's ruling Party opening up to the world




Rice brings warm front to ice rink




Trade chief: Exports prices to stabilize




Beijing Olympic venues shape up for 2008




Sino-Australian FTA study nears end




Subsidence brings down Yangtze Delta