Olympic torch expected to run through Taiwan
(Agencies)
Updated: 2005-03-15 02:32
Olympic organisers in Beijing wants the traditional torch relay for the 2008 Games to pass through Taiwan, the Beijing News reported on Monday.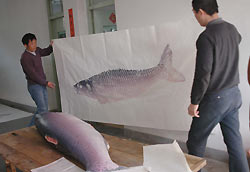 Farmers in Northwest China's Shaanxi Province completed an art work with a huge fish measuring 1.80-meter-long, Mar. 6, 2005. This work, according to its painter, is made for the 2008 Olympic Games. [newsphoto]

"The domestic torch relay should cover as much ground as possible and involve all China's provinces, regions and peoples, including Hong Kong, Macau and Taiwan," the newspaper quoted Liu Qi, president of the 2008 Beijing Olympics organising committee, as saying in a Sunday interview on China Central Television.

Liu, a member of the Communist Party's elite politburo, also said China's marketing campaign for the games was going so smoothly that income should far surpass the original budget of $1.625 billion,

"Our marketing efforts are going well, so there is a very high possibility for setting low ticket prices," he said.

Beijing's Olympic running costs are expected to be around $1.6 billion, a fraction of the $37 billion budgeted to beautify the city and build infrastructure, including venues valued at $2 billion.

While there has been some concern about Beijing's ability to finish its venues in time for the Games, Liu said construction was on schedule and a bigger hurdle would be improving Beijingers' manners, the newspaper said.

"We need to work on getting people to stand in line, not spit on the street or litter, be polite and especially to be friendly and welcoming to guests," he said.




Today's Top News
Top China News

National People's Congress enacts historic law for peace




Anti-Secession Law adopted by NPC (full text)




Olympic torch expected to run through Taiwan




Wen addresses press conference (full text)




German gets compensated for fake paintings




Tighter rein on law enforcement demanded