Wen addresses press conference (full text)
(China Daily)
Updated: 2005-03-15 02:11
Editor's note: The following is a full transcript of questions and answers at Premier Wen Jiabao's press conference on March 14, 2005.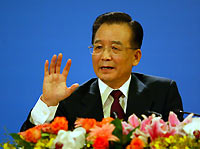 Premier Wen Jiabao gestures at yesterday's news conference held after the closing of the annual NPC session. [newsphoto]

Wen: Ladies and gentlemen, good morning. As you know, there are more than 2,000 journalists from China and abroad covering the NPC and CPPCC sessions. However, due to the limited seating capacity of this hall, only about 700 of them are present here. I'd like to use this opportunity to express my thanks to the journalists for their interest in China's reform and development as well as their objective and fair coverage of China.

Let me also say, as a matter of fact, every person in China has great interest in the affairs of their own country. Yesterday I logged onto xinhuanet.com and saw hundreds of questions raised by ordinary people, since they knew I was going to give a press conference. I was deeply touched by their interest in national affairs. Many of their proposals and suggestions narrowed the serious consideration of the government.

Now the session of the NPC is over, yet the road ahead could be rather bumpy. We must be mindful of potential problems and get fully prepared for the worst. We must be sober-minded, cautious, prudent especially when the situation is getting a little better.

Our nation has gone through so many disasters and hardships in history that we are now blessed with the essence of urgency, determination for survival and aspirations for peace and development. Our country is so big, problems so numerous and complicated. And we, as a nation, must have courage to overcome difficulty, confidence to win and dauntless spirit to work hard and prevail.

Today I'm here at this press conference ready to answer your questions. I'll speak from my heart. I'm neither nervous nor afraid.






Today's Top News
Top China News

Law against secession to benefit Straits ties




Rice: US doesn't have a posture against China




Back words with action, Dalai told




Cathay Pacific, Air China in merger talks




July by-election will reveal new HK chief




People who moved China, 2005