Accuser's family praises Jackson in video
(Agencies)
Updated: 2005-03-05 10:14
A family now accusing Michael Jackson of child molestation was seen by jurors Friday in a video praising him as a father figure, and the sister of the accuser testified under cross-examination that she had accused her own father of molesting her after her mother made the allegation.
Prosecutors showed jurors the video, which they claim was a staged and scripted response to a damaging documentary about Jackson.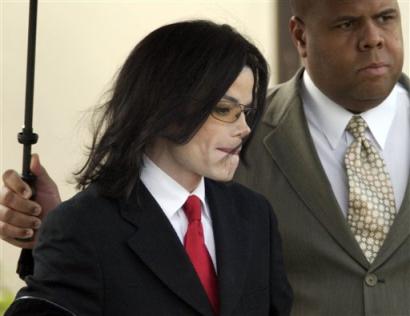 Entertainer Michael Jackson is escorted by an unidentified security guard, right, following his fifth day of his child molestation trial at the Santa Barbara County Superior Court Friday, March 4, 2005, in Santa Maria, Calif. [AP]

"God worked through Michael to help us," the mother of the accuser said in the video. "When we saw no hope, Michael said there was hope. ... We were broken and Michael fixed us."

As the pop star left court for the weekend after the trial's first week of testimony, he told reporters: "It went very good, it went very good."

The video was played during testimony by the accuser's 18-year-old sister, who told jurors Thursday that Jackson's associates had the family make the tape. It was made about two weeks after a 2003 TV documentary in which her brother appeared with Jackson, who said he allowed the boy to sleep in his bed while he slept on the floor.

During cross-examination intended to call the credibility of the accuser's family into question, the witness acknowledged accusing her father, who is divorced from her mother, of sexually abusing and imprisoning her and of making terrorist threats.

Jackson attorney Thomas Mesereau Jr. asked the young woman if she had once told police she was being abused by her father five times a week, and she answered, "We were abused every day."

She said she learned she had been sexually abused when her mother blurted out the accusation in a conversation with her father.

"It was a horrible experience to find out ... that he had done that to me when I was young. My mother screamed it out to him," she said.

Mesereau asked if the father appeared to agree with the accusation, and she said yes.

In the video, the sister was seen with tears streaming down her face and saying of Jackson, "He's a very caring, humble man. He took us under his wing when no one else would."

She spoke of her brother's affliction with cancer and that Jackson "helped him so much."

The boy at one point said that he asked Jackson, "Can I call you daddy?" and that Jackson said that was fine.

The boy's mother delivered a dramatic and seemingly heartfelt tribute to a man she said "made us his family."

"We weren't the right ZIP code, the right race. All the doors closed on us. Michael said, 'My doors are open.'"

Off camera, an interviewer asked the family questions and suggested that they say things about Jackson.

The video, which lasted more than an hour, was played in a hushed courtroom where Jackson's mother, Katherine, sat dabbing at her eyes with a tissue and his sister LaToya and brother Jackie sat beside her.

Jurors watched intently and some of them took notes.

In the video, the boy who is now accusing Jackson gave him credit for helping to cure his cancer.

"We were driving up the hill and he told me, 'You need to get better.' He told me, 'You need to eat up all those cancer cells like Pac-Man.' I never forgot that," the boy said.

The mother also talks on the video about Martin Bashir, the British journalist who made the documentary. "He took a beautiful relationship and spun it out of control. God works through people and so does the devil," she said.

But when Mesereau questioned the sister on the stand, she insisted that no one in her family has ever seen the documentary.

The sister said the video of her family had a script. When Mesereau asked her if everything on the tape had been memorized, she said, "Not everything."

Mesereau also questioned her about her earlier testimony that while at Neverland she saw Jackson pour wine for her brothers and others, including her. He noted that she had told sheriff's investigators she believed it was wine because they were in a wine cellar but did not see Jackson pouring it or drink any herself.

"I was young back then," she said. "I didn't know I had to say every little detail for it to be right."

Mesereau noted that she mentioned being young several times and inquired if someone told her to say that if she was stuck on a defense question. She said no.

"Did you ever use that stock phrase when answering any of the prosecution's questions?" he asked.

"Nobody told me what to say. What I say is for me," she said.




| | |
| --- | --- |
| | |
| Cecilia Cheung in a commercial | |

| | |
| --- | --- |
| | |
| Green light for 'Amber' | |

| | |
| --- | --- |
| | |
| Bill Gates bestowed knighthood | |
Today's Top News
Top Life News

President Hu sets forth guidelines on Taiwan




Wen: China to keep yuan basically stable




Rise of China's defence spending "modest"




Law only targets handful of secessionists




Women to get protection from harassment




China's housing prices up 14.4% last year