Thousands protest Bush visit to Germany
(Agencies)
Updated: 2005-02-24 08:34
MAINZ, Germany - At least 4,000 demonstrators vented their anger at the visit of US President George W. Bush to Germany but were kept well away from the security ring around him.
The centre of the picturesque western city was almost totally deserted after being shut to traffic and pedestrians during Bush's visit, with only a few police vehicles and armoured cars visible in the streets.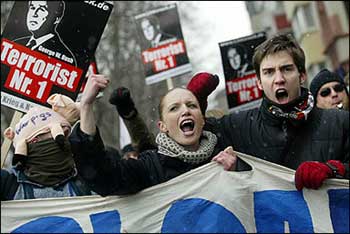 Protestors shout slogans and hold banners reading 'Terrorist number one' during a demonstration against US President George W. Bush in Mainz, where Bush met German Chancellor Gerhard Schroeder on February 23, 2005. [AFP]

The protesters brandished placards reading "Terrorist Nr 1" and "Bush Swim Home" while police helicopters circled overhead.

The organizers of the rallies, an alliance of pacifist groups under the motto "Not Welcome, Mr Bush", said they were expecting 10,000 people to attend, but police put the numbers at about 4,000.

"Everything is very peaceful," said the organisers' spokesman Reiner Braun.

The stretch of the Rhine river that flows through Mainz was shut to shipping, but police confirmed that a boat with an anti-Bush protester on board had managed to sail towards a bridge shortly before the president's motorcade crossed it.

Three police launches intercepted the boat before it reached the bridge.

Police sealed manhole covers, removed mailboxes, insisted garage doors remain open and even temporarily closed the airspace to protect the US leader.

German airline Lufthansa complained that the security measures for Bush's visit had forced the cancellation of 71 of its flights from Frankfurt airport.

Frankfurt, Germany's biggest airport, was closed for 25 minutes on Wednesday morning to allow Bush's jet to land at the nearby US airbase Rhein-Main.

But Lufthansa said none of its flights were able to take off in the 45 minutes which followed Bush's arrival.

"We had to cancel 71 flights because of the temporary closure of Frankfurt airport and because of the reduced frequency on the takeoff and landing runways," said Lufthansa spokesman Thomas Jachnow.

The extent of the security measures for Bush's visit "were hard to understand in our opinion", he added.

Jachnow said a total of 4,675 passengers on Lufthansa and other flights were affected by the disruption.

A spokesman for Frankfurt airport confirmed that 104 flights were cancelled because of the US president's arrival but said that bad weather conditions were to blame.

There was a 57-kilometre-wide (35.4-mile-wide) air exclusion zone in operation over Mainz.

Security was also tight in the neighbouring city of Wiesbaden where Bush visited US troops later on Wednesday.

Bush made a one-day visit to Germany during which he and Schroeder discussed the Iranian nuclear crisis, the Middle East Peace process, the role of Syria in Lebanon and efforts to stabilize Iraq.





Today's Top News
Top World News

Vice-governor loses job for coal mine accident




Bidding starts on high-speed railway




Chirac calls on EU to lift arms embargo




Giant panda skeleton found in ancient tomb




New rules regulate petitioning




Khatami to Bush: Iran allows no meddling