Chirac calls on EU to lift arms embargo
(China Daily)
Updated: 2005-02-24 02:57
BRUSSELS: French President Jacques Chirac on Tuesday repeated a call for lifting an arms embargo against China at a press conference after a summit of the North Atlantic Treaty Organization (NATO).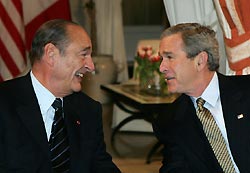 French President Jacques Chirac (left) face to face with US President George W. Bush in Brussels on Tuesday. [AFP]

He said the ban "is no longer justified" and should be lifted "under conditions that Europe and the United States define together."

The president said the move will not break a strategic balance, referring to a remark by US President George W. Bush earlier at the NATO summit that lifting the ban might change a strategic balance in Asia, especially across the Taiwan Straits.

Bush also signalled that Washington might take punitive steps against the European Union if it ends the weapons ban on China.

Chirac said the allies of the United States, Canada and Australia, have never imposed such a ban or gave it up 10 years ago.

At a summit between the United States and the EU after the NATO meeting, Chirac also stressed the importance of a strategic partnership with China.

He said: "We have a lot of problems around the world such as warming climate and threats from diseases and poverty."

To fight the problems, Europe needs co-operation from not only the United States, but also a strategic co-operative partnership with Russia and China, he added.

China has insisted the embargo is "outdated" and "political" and the lifting would not harm the interests of any third party.

Foreign Ministry spokesman Kong Quan on Tuesday urged the United States to follow the historical trend instead of setting obstacles.

Bush met German Chancellor Gerhard Schroeder in the western German city of Mainz yesterday, amid street protests by thousands.

EU to solidify trade ties with China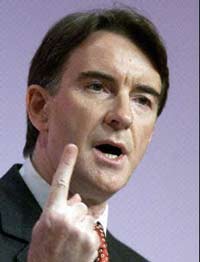 EU Trade Commissioner Peter Mandelson [file/AFP]

European Union Trade Commissioner Peter Mandelson left Wednesday for a four-day visit to China, aimed at strengthening trade relations.

"I see no greater strategic challenge for Europe than to understand the dramatic rise of China and to forge ties with it," Mandelson said in a statement.

Mandelson will meet with the Chinese Minister of Commerce Bo Xilai and Vice Premier Wu Yi in Beijing. Leaders agreed at an EU-China summit last December to work on a new trade and political agreement.

"I believe that Europeans need to have a clearer sense that China is assuming the responsibilities that go with its new global trading and political power," Mandelson said.

China joined the World Trade Organization in 2001, making it more accessible to other markets, and is participating in the Doha Round of international trade talks to help poorer countries join the global market.

China also began quota-free trade of textiles in January. The EU and China are both monitoring the growth of China's textile trade to keep the growth rate at an acceptable level.




Today's Top News
Top World News

Vice-governor loses job for coal mine accident




Bidding starts on high-speed railway




New rules regulate petitioning




Chirac calls on EU to lift arms embargo




Thousands protest Bush visit to Germany




Khatami to Bush: Iran allows no meddling