Government enacts new rule to regulate petitioning
By Liu Wujun (China Daily)
Updated: 2005-02-24 02:54
The newly-revised regulation on petitions, which will take effect on May 1, signals the government's determination to bring the petition system in line with the changing times.
It also acknowledges, through legislation, the petition system's positive role in building a harmonious society.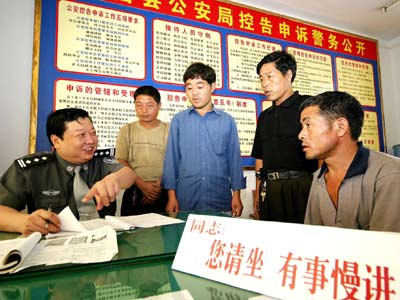 An official with the local public security authorities talks with residents on their complaints in Xuchang, Central China's Henan Province in the picture taken in August, 2004. [newsphoto]
The petition system, which is also referred to as the system of letters and visits, is a channel for people to air their complaints.
Compared with the old regulation on petitions, which was promulgated in 1995, the revised one has made sweeping changes, which are mainly manifested in the following areas:
The modified regulation stipulates, for the first time, that public hearings may be held to handle "major, complex or knotty" problems raised by petitioners.
It also introduces the accountability system to the petition system, requiring any petition be addressed within 60 days after it is accepted.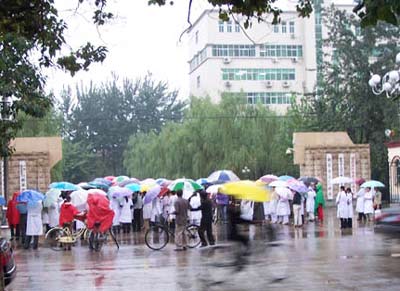 Medical staff of the People's Hospital in Xinle, North China's Hebei Province, storm the local government September 14, 2005. The move is to protest against the government's decision to establish the only 120 emergency center of the city in another hospital. [people.com.cn]
It also requires that governments at all levels must establish and perfect the accountability system in its petition work and any negligence will be punished.
In addition, how officials handle petitions will be taken into account in their job performance assessment.
As a way of guaranteeing citizens' rights, the petition system should be convenient and smooth, a notion that has been taken into consideration in these amendments.
Any petition should be sent by letter, fax, email or other written forms.
The inclusion of emails as an option is indeed a major progress. It should not only increase efficiency, but also greatly reduce petitioners' economic costs by saving them the trouble of visiting offices in person.
The revised regulation also calls for the establishment of a nationwide petition information network, which should enable petitioners to lodge appeals and check petitions from where they live.
Protecting people's legitimate rights to complain is highlighted in the amendment.
It says any individual or organization must not take revenge on a petitioner, otherwise they will face legal action.
In particular, the amendment stipulates that if administrative organs are found to be infringing petitioners' rightful interests, the officials concerned will be dealt with by the civil code or criminal law.
Meanwhile, petitioners' activities will also be regulated under the amendment, as a smooth and orderly petition channel is the key to guaranteeing people's legitimate interests and rights.
The amendment states that any violent or disorderly act that results from a petition, such as the disruption of government services, or the blocking of traffic, will be dealt with in accordance with the criminal law.
The newly-amended rule on petitions is expected to contribute greatly to a more smooth running government machine.
People's right to petition is well enshrined in the Constitution and therefore should be well guarded.
The revised petition rule has put such constitution-mandated rights on a new legal basis.
Before, some government officials always interpreted, sometimes deliberately, the petition system to their favour, viewing petitions as destabilizing and petitioners as trouble-makers.
Some corrupt local officials, fearing residents' petitions could uncover their dirty dealings, always tried their utmost to obstruct or repress the petitions, or sometimes, even strip petitioners of their right to complain.
Such gross violation of citizens' rights seriously harms the public's trust in the government.
Now with the new regulation on petitioning clearly stating petitioner's legitimate rights, the situation is set to improve.
Despite the merits, there are still flaws with the newly-amended rule.
To some extent, the whole process of amendment-drafting was done behind the closed-doors.
No public hearing was held before the amendment was drafted.
And its draft was not published in the media to solicit public input before it was finalized.
In addition, there are technical flaws, such as vague wording, in the amendment itself.
Take the provision that a public hearing may be held to settle any "major, complex and knotty petition issue" as an example.
The wording here is too vague and lacks specific definition as to how to categorize which issues are "major, complex or knotty," which is likely to result in confusion and leave room for possible abuse.
Also, it is suggested that lawyers be encouraged to offer legal assistance to both government petition offices and petitioners, something that could create a conflict of interest.
It is hoped that such flaws are corrected when the follow-up implementation rules on the regulation are drafted.
The petition system has a significant bearing on the government's public credibility, and therefore it should be taken seriously.
And as such, the rules on petitioning should be amended to fit in with changing circumstances.
The latest amendment is a giant step forward in this direction.
Its implementation is expected to contribute positively to our on-going endeavour to build a harmonious society.
(China Daily 02/24/2005 page6)
Today's Top News
Top China News

Government enacts new rule to regulate petitioning




Watchdogs go after malignant red dye




Vice-governor loses job for mine accident




Bidding starts on high-speed railway




Chirac calls on EU to lift arms embargo




Nation seeks energy efficient buildings