LeBron James impressed by dunk contest
(Agencies)
Updated: 2005-02-21 11:01
Cleveland's LeBron James said this week that many of the top-name players avoid the dunk contest because most of the dunks have been used. After the show Atlanta's Josh Smith, Phoenix's Amare Stoudemire and New Orleans' J.R. Smith put on Saturday, James might rethink his position.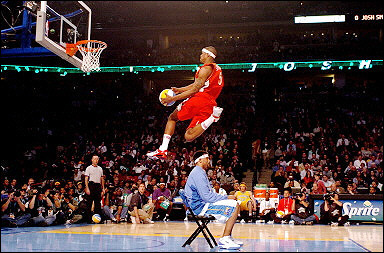 Josh Smith of the Atlanta Hawks leaps over Denver Nugget Kenyon Martin during the NBA All-Star Slam Dunk competition in Denver. Smith won the event. [AFP]


Smith won the contest after donning the jersey of former Hawks star Dominique Wilkins and completing a reverse-spin 360, earning perfect scores on both dunks. Smith also scored a 50 after leaping over Kenyon Martin, who was seated in a chair, and throwing down a windmill dunk in the first round.

Stoudemire followed that with a perfect score of his own, throwing a pass off the backboard to Steve Nash, who headed it back to Stoudemire for a one-handed 360.

"Josh Smith impressed me," James said before Sunday's All-Star game. "The one off the head, Steve Nash to Amare Stoudemire impressed me also. And the behind the back dunk that J.R. Smith did was pretty nice also. You got to be creative. You be creative with it, then the dunk doesn't have to be as good."

As for getting more players to compete in the event, Miami center Shaquille O'Neal had an idea that might get even him to step up.

"David Stern is going to have to up the ante," Shaq said. "I think if you give the winner $100,000, second place $75,000 and third 50, then all of the guys would step up. I might even do it then."




| | |
| --- | --- |
| | |
| Pistons beat 76ers 93-75 | |

| | |
| --- | --- |
| | |
| Football For Hope | |

| | |
| --- | --- |
| | |
| Nadal into finals of Brazil Open | |
Today's Top News
Top Sports News

Non-government group plans to lease, develop Diaoyudao




FM: US-Japan statement on Taiwan wrong




Senior Chinese official consults DPRK




Private airlines ready to take off in China




Medical research on stem cells to continue




Wet nurse plan dumped in its infancy