Non-government group plans to lease, develop Diaoyudao
(Chinadaily.com.cn)
Updated: 2005-02-21 08:50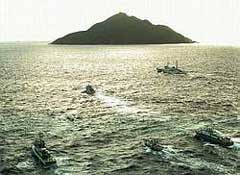 Diaoyu Island and adjacent isles are part of the the Chinese territorial sovereignty. [www.cfdd.org.cn]

A Chinese non-government organization with an aim of defending the Diaoyudao Islands and adjacent isles has been registered in Hong Kong, and will apply to Chinese authorities to develop the islands.

China Federation of Defending Diaoyudao Islands Limited was registered with the authorities in Hong Kong Special Administrative Region in November 12, 2004, according to a China Youth Daily report on Monday.

Tong Zheng, president and founder of the federation, said a meeting of the board of directors will be held soon. Tong disclosed that the federation will soon submit an application to the State Administration of Oceanography to lease the Diaoyudao Islands for tourism and exploration activities.

It is learned that the federation will be headquartered in Beijing and has its office in Hong Kong. Its articles of association will also be published in its website (www.cfdd.org.cn).

It also plans to organize an exhibition of the islands, part of the Chinese territorial sovereignty in the coming months.

Japanese move on islands "illegal"

Japan said it had placed under "state control" a lighthouse built by nationalists on a disputed island in the East China Sea despite claims by China.

Some Hong Kong residents protest against Japan's move on the Diaoyu Islands before the Japanese consulate in the special administrative region on February 16. [newsphoto]

Chinese Foreign Ministry Spokesman Kong Quan said in Beijing on February 16 that Diaoyu Islands and neighboring islands have been China's territories since ancient time, and any unilateral action is "illegal and invalid".

Earlier, Kong said China has always maintained that the dispute should be addressed by negotiation and consultation. "No unilateral action should be taken," Kong said on January 18.

The 5.6-meter (18-foot) lighthouse was erected in 1988 by Japanese right-wing activists to mark a claim on Uotsuri-jima, the largest of the Senkaku Islands, known as Diaoyu in China, which lie between China's Taiwan Island and Japan.

"Those who built the lighthouse said they no longer can run it," Vice Foreign Minister Shuzen Tanigawa said.

"Since they have abandoned the right of possession, it has been transferred" to the state, Tanigawa said.

"Japan has been saying they (the islands) are traditional Japanese territory," he said. "Even if we have some trouble, we are going to protect what we have to protect."

The move comes amid rising tensions between Japan and China, including a dispute over a major gasfield near the islands.

Tokyo has already informed Beijing of the transfer of lighthouse authority, Tanigawa claimed, adding that it had yet to receive any reaction from the Chinese side.

Japan declared the oil-rich but uninhabited islands were part of its territory in 1895, the same year it took over Taiwan.

In March, Japanese authorities arrested and deported seven Chinese activists after they went to the islands, causing a diplomatic row with Beijing.

The activists were the first people to land on the disputed islands since 1996.

Relations between Japan and China have been increasingly strained in recent months in part over disputes about the nearby gasfield where Beijing began drilling in 2003 despite Tokyo's protests.

In December, Japan for the first time listed China as a potential threat in revised defense guidelines.

China, in turn, has been incensed over Prime Minister Junichiro Koizumi's repeated annual visits to Yasukuni shrine, which honors Japanese war dead including war criminals in a bitter reminder of Japan's militaristic past.

China has refused all bilateral state visits due to Koizumi's pilgrimages. The Japanese premier has defended his visits but has not gone to the shrine this year.





Today's Top News
Top China News

Non-government group plans to lease, develop Diaoyudao




Private airlines ready to take off in China




FM: US-Japan statement on Taiwan wrong




Senior Chinese official consults DPRK




Medical research on stem cells to continue




Wet nurse plan dumped in its infancy