Suns' Richardson wins NBA 3-point contest
(Agencies)
Updated: 2005-02-20 13:33
Phoenix's Quentin Richardson shot an airball on his first shot, but closed out the final by making nine straight to edge Philadelphia's Kyle Korver by one point in the NBA's 3-point shooting contest Saturday night.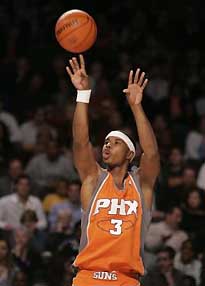 Quentin Richardson of the Phoenix Suns shoots on his way to winning the three-point shootout at the NBA All-Star Saturday Night event in Denver, Feb. 19, 2005. [AP]

Richardson appeared to have no chance at catching Korver after missing his first four shots, but hit four of five money balls ¡ª worth two points each ¡ª and had the strong finish to close with 19 points.

"In the first round, I felt like I was shooting a little too hard so the first shot (in the second round) I tried to shoot softer and it got a little too soft," Richardson said. "Then I got it going."

Denver's Voshon Lenard, who hasn't played this season since tearing his Achilles' tendon in the season opener, had the final chance to pass Richardson but couldn't come through. The leader after the first round with 17 points, Lenard needed to make all five shots in the final rack, but missed the first one and finished with 16 points.

Richardson's teammate Steve Nash won the skills challenge, completing the final dribbling, passing and shooting course nearly 12 seconds faster than Denver's Earl Boykins.

Nash was the leader after the first round at 31.4 seconds, then completed the course in 25.8 the second time around. His only mistake in the final was missing his first chest pass, but he got the second one and breezed through the rest of the skills after Boykins needed four tries to hit a 3-pointer.

Shawn Marion, Diana Taurasi and Dan Majerle made it 3-for-3 for Phoenix by winning the shooting stars competition, making shots from six spots in just 28 seconds. Majerle capped the competition by hitting his second shot from halfcourt to help Phoenix beat Denver by 16 seconds.

"It's fun ¡ª we even got Thunder Dan back in the equation," Nash said. "It's great for the organization."




| | |
| --- | --- |
| | |
| Pistons beat 76ers 93-75 | |

| | |
| --- | --- |
| | |
| Football For Hope | |

| | |
| --- | --- |
| | |
| Nadal into finals of Brazil Open | |
Today's Top News
Top Sports News

Beijing opposes US-Japan statement on Taiwan




Eight suicide bombings in Baghdad kill 55




Building harmonious society CPC's top task




Experts cry for checking before marriage




Industrial growth rate drops slightly




Bush harbors no bitterness toward Chirac