US-Japan statement on Taiwan opposed
(Chinadaily.com.cn)
Updated: 2005-02-20 12:10
The United States and Japan has listed in an unprecedented joint statement that Taiwan is their common security concern, and easing tensions in the Taiwan Strait was among their "common strategic objectives."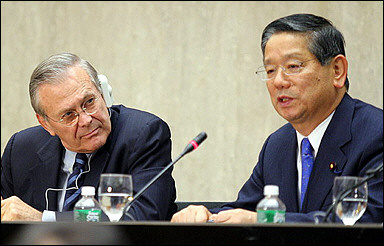 US Secretary of Defense Donald Rumsfeld (L) listens to Japanese Foreign Minister Nobutaka Machimura during a press conference at the State Department in Washington, DC. The US and Japan declared that Taiwan was a common security issue. [AFP]


Senior officials of the two countries also talked about China's military investment in the past years, urging China "to improve transparency of its military affairs". Earlier, CIA director Goss said that China's growing defense buildup might "tilt the balance of the Taiwan Strait" and threaten U.S. troops in the Asian region.

Chinese Government and people resolutely opposes the United States and Japan in issuing any bilateral document concerning China's Taiwan, which meddles the internal affairs of China, and hurts China's sovereignty, China's foreign ministry said.

The ministry said that peace, development and cooperation are the growing trends of the world, and aspirations of all earth's residents. Beijing urged the United States to see to their respective commitments toward Chinese people concerning Taiwan, and refrain from doing things that affect peace and stability in Asia and Pacific.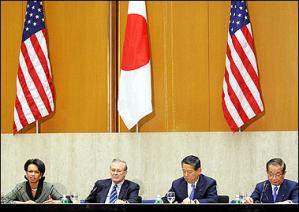 L-R: US Secretary of State Condoleezza Rice, US Secretary of Defense Donald Rumsfeld, Japanese Foreign Minister Nobutaka Machimura and Japanese Defense Minister Yoshinori Ono attend a press conference after talks at the US State Department.[AFP]


A joint statement released after a top ministerial meeting in Washington on Saturday of the US-Japan Security Consultative Committee, said that one of the common strategic objectives in Asia was to "develop a cooperative relationship with China, welcoming the country to play a responsible and constructive role regionally as well as globally."

It is the first time that the governments of the United States and Japan have ever issued a joint statement concerning the Taiwan Strait in the half-century US-Japanese alliance, diplomats said.

"It (the Taiwan Strait) is seldom, if at all, referred to in a formal document," a US official acknowledged after the "2+2" meeting between US Secretary of State Condoleezza Rice and Defense Secretary Donald Rumsfeld and Japanese Foreign Minister Nobutaka Machimura and defense chief Yoshinori Ono.

They also urged China "to improve transparency of its military affairs," the statement said.

The "two plus two" bilateral discussions were last held in December 2002.

Washington switched recognition from Taiwan to China in 1979 while Japan ended its diplomatic ties with the island in 1972 to establish relations with Beijing.

Beijing has been increasingly worried that Taiwan, under the leadership of independence-leaning leader Chen Shui-bian, is inching towards a formal breakaway.

Meanwhile, senior US and Japanese officials vowed to strengthen security and defense cooperation, promising to intensify consultations on realignment of US force structure in Japan.

"I can't think of a time when the relationship has been closer or more constructive," US Defense Secretary Donald H. Rumsfeld said at a news conference.

The officials "underscored the need to continue examining the roles, missions, and capabilities of Japan's Self Defense Forces and the US Armed Forces required to respond effectively to diverse challenges in a well-coordinated manner," the statement said. "The Ministers also emphasized the importance of enhancing interoperability between US and Japanese forces," it said.

The officials discussed the planned realignment of the nearly 50,000 US forces in Japan, part of a global repositioning of US troops. "Both sides confirmed their commitment to maintaining deterrence and capabilities of US forces in Japan while reducing the burden on local communities."




Today's Top News
Top China News

Private airlines ready to take off




Senior official consults DPRK




Chinese medical research on stem cells to continue




US-Japan statement on Taiwan question opposed




US-Japan statement on Taiwan opposed




Eight suicide bombings in Baghdad kill 55