Jackson recovers from flu ahead of trial
(Agencies)
Updated: 2005-02-17 17:21
Superstar Michael Jackson was recovering at home from flu symptoms, after being released from hospital ahead of next week's resumption of his pedophilia trial.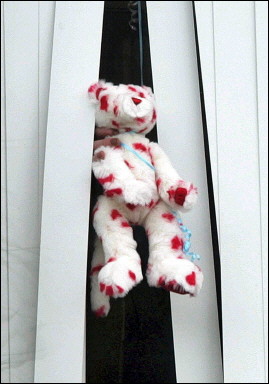 US pop star Michael Jackson holds a stuffed animal to his fans below from his room on the fourth floor of the Marian Medical Center in Santa Maria where he stayed overnight after being admitted with the flu. [AFP]


Jackson's illness dramatically interrupted his trial on Tuesday when he was rushed to the emergency room of a hospital in the California town of Santa Maria after becoming violently ill on his way to court.

The pop legend was sped away from the medical center, surrounded by a throng of reporters and loyal fans, in one of two black sports utility vehicles Wednesday after being released from a 33-hour stay.

"Michael Jackson has been discharged from the Marian Medical Center ... to continue his recovery at home," the superstar's spokeswoman Raymone Bain said in a statement.

"Mr. Jackson would like to thank the doctors and staff at the Marian Medical Center for the care they extended to him," she said, declining to say if the star had returned to his nearby Neverland Ranch to recuperate.

A doctor said the ailing entertainer was "in a stable condition", but still needed care for lingering symptoms of an influenza-like illness.

"He continues to need care for some persistent viral symptoms, but otherwise, he is in good spirits," Todd Bailey told journalists outside the hospital minutes before Jackson's cloak-and-dagger departure.

The singer was treated for flu-like symptoms and vomiting at the hospital, located just a few kilometers (miles) from the courthouse where Jackson's trial is set to resume next week.

The showman sent a handful of diehard fans into a frenzy when he briefly appeared at his fourth floor hospital window, flashing his signature V-sign and waving a teddy bear his admirers say they had given him. An intravenous tube could be seen on his arm.

As the fans chanted "we love you Michael" a hand emerged again from the window, holding a note that read "I love more."

"He was letting us know he is alright. He is a warrior, and God will get him through this," said Susie Mumpfield, 23, who quit her job at Disneyland to show support for her idol throughout the six months the trial is expected to last.

Jackson's parents, Joe and Katherine Jackson, spent several hours at his bedside Wednesday, together with Germaine Jackson, one of the entertainer's famous brothers.

Younger brother, Randy Jackson, visited earlier and said his elder sibling had insisted on appearing in court Monday even though he had felt unwell for days.

Jackson was rushed to the hospital Tuesday morning after he vomited in the car in which he was being driven to court from his Neverland.

It is at the sprawling amusement park home that Jackson is alleged to have fondled a 13-year-old boy, plied him with alcohol and attempted to kidnap him and his family two years ago.

Jackson has denied all 10 charges against him, saying they amounted to a "big lie" concocted in a bid to extort him.

Jackson is to return to court on Tuesday, when rival lawyers will resume the critical process of selecting the 12 men and women who will ultimately decide whether the pop star will spend up to 20 years behind bars.




| | |
| --- | --- |
| | |
| London Fashion Week | |

| | |
| --- | --- |
| | |
| Delicacy at temple fair: Insects on skewers | |

| | |
| --- | --- |
| | |
| Julia Roberts releases photos of twins | |
Today's Top News
Top Life News

Expert: China overtakes US as world's top consumer




China plans nuclear talks with North Korea




CIA issues warning on China's military efforts




China's endangered panda expands habitat




Kyoto treaty takes effect to tackle climate




Report: Iran, Syria to form 'united front'