Coal mine gas explosion kills 209 in Liaoning
(Xinhua/China Daily)
Updated: 2005-02-16 10:02
Six more bodies were recovered early Wednesday morning from a coal mine in Fuxin city, northeast China's Liaoning province, where a gas explosion occurred on Monday, bringing the death toll to 209, rescuers confirmed.
A source with the headquarters in charge of rescue work said that 29 miners were injured and six others were still missing.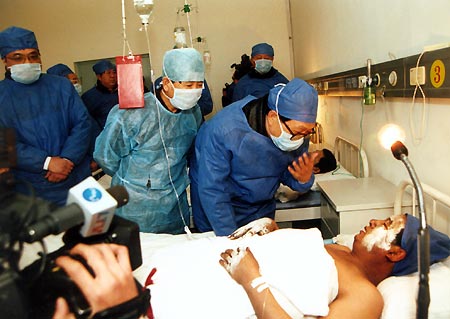 State Councillor Hua Jianmin, who is leading a State team at Fuxin, Liaoning Province, visits surviving miners of the explosion in hospital on February 15, 2005. [newsphoto]

One worker in charge of the ventilation system was saved Tuesday afternoon and is now in a stable condition, according to hospital sources.

The accident happened at the Sunjiawan coal mine on Monday afternoon when 244 miners were working at the pit, about 242 metres underground, sources with the State Administration of Work Safety said.

About 180 rescuers have been sent to the site and 29 miners had been saved by yesterday afternoon.

Upon hearing of the accident, President Hu Jintao urged local governments to spare no efforts to save the trapped miners.

Premier Wen Jiabao and Vice-Premier Huang Ju also instructed local officials to rescue the victims and find out the cause of the accident.

A team led by State Councillor Hua Jianmin arrived at the accident site yesterday and were helping organize rescue and compensation work.

Hua, together with Li Keqiang and Zhang Wenyue, two top leaders of Liaoning Province, inspected the coal mine and expressed concerns from the Party and State leaders.

Hua has given specific instructions for the rescue, treatment and investigation work.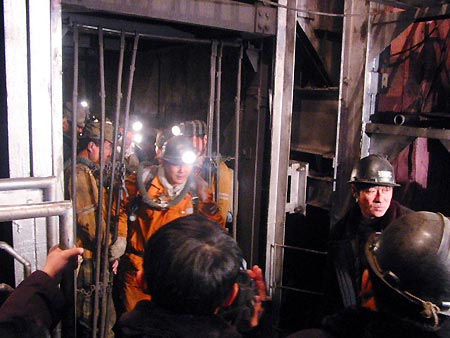 Rescuers walk out of elevator after a round of searching on February 15, 2005. [newsphoto]

He said that no efforts will be spared for rescuing the trapped and injured; local governments and the coal mine industry group should do their best for the compensation for the families of the victims, to ensure stability of the region; an investigation group will be set up for finding out the accident cause; and an all-round production safety check must be held for prevention of such accidents.

The explosion took place about 10 minutes after an earthquake shook the mine, Zhang Yunfu, vice-general manager of the Fuxin Coal Industry Group.

Moments later, gas detectors lost their signals and one of the mine's main pits filled with smoke, Zhang said.

"Rescue operations are still going on and the coal mine is still verifying the conditions of workers," said an official at Fuxin's Coal Mine Safety Supervision Bureau.

"We still don't know the real cause of the accident because the formal investigation has yet to start."

By press time yesterday, ventilation, power and drainage had been restored at the colliery and rescuers were divided into three groups, taking turns entering the pits to search for survivors.

The rescuers were faced with some difficulties, such as wet roads following a snowfall and below-freezing temperatures, reports said.

Of the injured, one of the miners was still in a coma, and the others were confirmed out of danger after being hospitalized, according to Zhang, the vice-general manager.

According to Zhang, four of the injured were poisoned by carbon monoxide and are in stable condition after receiving high pressure oxygen treatment.

Eleven others suffered burns in the blast and already are out of life danger. Two suffered bone fractures but remain in stable condition.

The miner still in a deep coma suffered head injuries. All the others have suffered slight injuries, and half of the injured can take care of themselves, Zhang said.

About 30 family members of the victims are hospitalized due to deep grief.

Dozens of medical workers and 12 ambulances are at the accident site. Medical workers have sterilized the dead miners' bodies, which are expected to be carried out to the ground surface this evening.

A medical team is on its way from Shenyang, capital of the province, to the General Hospital of the Fuxin Coal Industry Group, reports said.

The Sunjiawan colliery, with 3,100 workers, belongs to the Fuxin Coal Industry Group and has two coal mines.

China has suffered a string of deadly mining disasters in recent months amid a nationwide work safety campaign.

A blast in North China's Shaanxi Province in November killed 166 miners and another explosion in October killed 147.




Today's Top News
Top China News

Coal mine gas explosion kills 209 in Liaoning




Chinese protest against move on islands




CPC punishes corrupt officials in 2004




Snow challenges returning crowds




Likely Iraq PM promises moderation




Guidelines help firms invest in shares