Chinese protest against move on islands
(Agencies)
Updated: 2005-02-16 01:11
Dozens of Chinese demonstrated outside Japan's embassy in Beijing on Tuesday, protesting against Tokyo's moves to take over a lighthouse on a disputed group of islands in the East China Sea.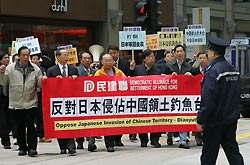 Citizens of Hong Kong protest against Japan's move on the Diaoyu Islands yesterday. [newsphoto]

The lighthouse was built by Japanese right-wing activists years ago on the islands, which are small and uninhabited but provide access to rich fishing ground and possible oil deposits.

"I am here because I am Chinese," said 22-year-old Jiao Wei, one of the approximately 50 protesters who turned out in the heavy snow.

"We are here to tell Japan that the Diaoyu Islands belong to China forever. Japan's behaviour has no justification under international law," he said.

The group, which called itself the China Federation of Defending Diaoyutai Islands, wore T-shirts with "Defend Diaoyudao" written on them and shouted "Down with the Japanese imperialists." They carried banners with the single character, "Shame!".

The Chinese know the islands as Diaoyu while Japan calls them the Senkakus

Despite economic interdependence, relations between the two China and Japan have never fully recovered from wartime aggression, a legacy exacerbated by Japanese Prime Minister Junichiro Koizumi's periodic visits to a Tokyo shrine honouring its war dead.

Koizumi said the move by the Japan Coast Guard to take over maintenance of the lighthouse was simply because private citizens had given up their claim and were no longer maintaining it.

But China's Foreign Ministry has called the action "illegal and invalid" and a "severe provocation and infringement on China's territorial sovereignty".

Tuesday's protesters said in a statement Japan's moves on the lighthouse were a "naked invasion of Chinese territory".

"Today also opens a new chapter in the Chinese people resisting the Japanese invaders," the statement said.




Today's Top News
Top China News

Private airlines ready to take off in China




Senior Chinese official consults DPRK




Medical research on stem cells to continue




US-Japan statement on Taiwan opposed




Eight suicide bombings in Baghdad kill 55




Building harmonious society CPC's top task