Bush requests $82B for Iraq, Afghan wars
(Agencies)
Updated: 2005-02-15 10:55
WASHINGTON - US President Bush asked Congress on Monday to provide $81.9 billion more for wars in Iraq and Afghanistan and for other U.S. efforts overseas, shoving the total price tag for the conflicts and anti-terror fight past $300 billion.
Republicans hope to push the package through Congress by early spring, reflecting both parties' desire to finance U.S. troops in the field and give Iraqis more responsibility following their national elections.

US President Bush speaks of his confidence in his newly appointed attorney general Alberto Gonzales during a swearing in ceremony at the Justice Department in Washington, Monday, Feb. 14, 2005. Bush also urged Congress to reauthorize the USA Patriot Act, the administration's widely criticized anti-terrorism law. [AP]

Bush asked lawmakers to pay for the new spending by borrowing the money ! which will make huge federal deficits even larger.

"The majority of this request will ensure that our troops continue to get what they need to protect themselves and complete their mission," Bush said in a statement accompanying his request.

He also said the money would help continue the pursuit of terrorists and help the United States "seize the opportunity to build peace and democracy in the Middle East."

The request was the latest demonstration of how the soaring costs of war ! and the ongoing reconstruction of Iraq and Afghanistan ! have exceeded the administration's early characterizations. White House officials derided former Bush economic adviser Lawrence Lindsey's early estimate of a $100 billion to $200 billion price tag.

About $77 billion of the total was for the wars in Iraq and Afghanistan, while about $5 billion was for aid to U.S. allies. Of the total package for the wars, the vast majority ! $74.9 billion ! was for the Defense Department, with other agencies sharing the rest.

Some $12 billion was requested to replace or repair worn-out and damaged equipment, including $3.3 billion for extra armor for trucks and other protective gear ! underscoring a sensitivity to earlier complaints by troops.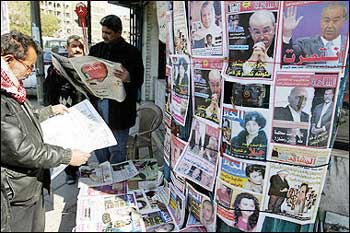 Iraqis read the morning papers in central Baghdad. Iraq's press welcomed the election results which delivered victory to the long-oppressed Shiite majority, but questioned what the future held for the nation's fledgling democracy and efforts to end a deadly Sunni insurgency. [AFP]

There was also nearly $400 million for more generous death benefits for the families of slain American soldiers, and money to cover higher fuel costs and programs aimed at boosting the morale of U.S. troops, many of whom have been forced to serve prolonged periods in Iraq.

In addition, there was $5.7 billion to train Iraqi forces and $1.3 billion to train Afghan security agencies. Another $5 billion was for the Army to redesign many of its own combat brigades so they would be more flexible and less reliant on other units.

Bush requested $658 million to build a new U.S. embassy in Iraq that could house a staff of 1,000, plus $717 million to staff it. He wants $4.8 million to enhance U.S.-backed broadcasting to Arabs, including new television broadcasts aimed at Muslims living in Europe.

Afghanistan would get almost $2 billion more for its own reconstruction, including money to build roads and schools, combat illegal drugs and prepare for parliamentary elections.

There was also money for other U.S. allies, including $150 million for Pakistan and $300 million for Jordan. The Ukraine would get $60 million in the wake of its elections, and the Palestinians ! engaged in a new peace effort with Israel ! would get $200 million for economic development and to help them create democratic institutions.

One possible flashpoint with Congress was two $200 million funds the State Department would control to provide economic and security aid to unspecified U.S. allies.

A total of $950 million would be provided for the tsunami-damaged Indian Ocean countries, largely for relief and long-term reconstruction. That included $350 million to replenish U.S. accounts tapped earlier for initial tsunami aid.

Also requested was $242 million for aid for Sudan's war-ravaged Darfur region, plus another $100 million to help implement last month's peace agreement in southern Sudan.

Rep. Jerry Lewis, R-Calif., chairman of the House Appropriations Committee, said he would move the bill "quickly and cleanly through the Congress" with a goal of sending Bush the legislation by early April.

In a hint that lawmakers would look to rework some details, he added, "Congress will exercise our constitutional obligations while expediting the consideration of this request."

Rep. John Spratt of South Carolina, top Democrat on the House Budget Committee, said lawmakers would back the effort to help American forces. But he complained that the measure contained some items ! such as the money to help restructure Army combat units ! that seemed to have little to do with the war and should have been in Bush's overall budget released last week.

"This is one way of trying to keep the regular budget sum down," he said.

Congress provided Bush with a $25 billion down payment last summer for this year's costs of the wars in Iraq and Afghanistan.

Before Monday's request, Congress had already approved $201.2 billion for the Defense Department since the terrorist attacks of Sept. 11, 2001, for the two wars and its other efforts to tighten security and to hunt terrorists, according to a tally by the Congressional Research Service.

In addition, lawmakers had provided nearly $27 billion for rebuilding Iraq and Afghanistan, said the service, which compiles reports for Congress.




Today's Top News
Top World News

At least 203 killed, 22 injured in Liaoning coal mine blast




Pop stars to sing out against pirate music




Post-festival passenger flow peaks




Iran mosque fire kills 59, injures 250




Students stayed on campus to save money




Illegal power plants to be cracked down