Colombia, Venezuela floods death toll exceeds 80
(Agencies)
Updated: 2005-02-15 09:39
The death toll from flooding in Colombia and Venezuela grew to more than 80 on Monday as rescue workers found more corpses, the two countries' governments said.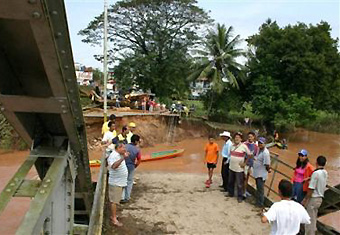 Residents of Puerto Santander, Colombia, stand alongside a bridge on La Grita River on the Colombian/Venezuelan border that was destroyed yesterday due to flooding, Monday, Feb. 14, 2005. [AP]

Most of the dead had drowned in shanty towns built near rivers swollen with mountain runoff after nonstop rain, mainly in the Colombian provinces of Santander and Norte de Santander and in Venezuela's state of Merida. Many victims were children.

"This has been very unusual. It doesn't rain like this normally at this time of year," said the head of the Colombian government's emergency office, Eduardo Jose Gonzalez.

The death toll rose to 33 in Colombia and past 50 in Venezuela, where flooded rivers were hampering rescue efforts and attempts to recover bodies. A total of about 64 had been reported dead in the neighboring countries on Sunday.

Floodwaters forced 40,000 Colombians to flee and destroyed 5,000 homes, and the government said it would send emergency funds to help rebuild homes for those displaced.

Authorities were clearing scores of landslides and blocked roads around Santa Cruz de Mora in Venezuela and remote villages left without water, food or electricity.

Tropical wet-season landslides and floods kill shanty town inhabitants every year in Colombia and Venezuela, where authorities often fail to prevent construction on vulnerable territory.




Today's Top News
Top World News

At least 203 killed, 22 injured in Liaoning coal mine blast




Pop stars to sing out against pirate music




Post-festival passenger flow peaks




Iran mosque fire kills 59, injures 250




Students stayed on campus to save money




Illegal power plants to be cracked down