China will push for N.Korea 6-party talks
(Agencies)
Updated: 2005-02-13 09:09
China has told the United States it would push for another round of six-way talks on the North Korean nuclear crisis as soon as possible, saying it would be in touch with Pyongyang and the other players.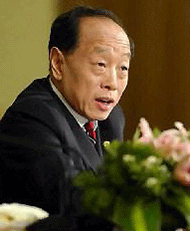 Chinese Foreign Minister Li Zhaoxing, seen here in this file photo, exchanged ideas with his US counterpart Rice by telephone on N.Korea's nuke issue last night. [file photo]

"China will stay in touch with all relevant parties and strive to make the situation develop in a positive direction so that the six-party talks could be resumed as soon as possible," a Foreign Ministry statement quoted Foreign Minister Li Zhaoxing as telling Secretary of State Condoleezza Rice by telephone.

North Korea announced on Thursday that it had nuclear weapons and was pulling out of multilateral talks.

The move presented a major challenge to South Korea, the United States, and China, which has played a lead role in the disarmament effort.

"Li reiterated China's stand in supporting the denuclearisation of the Korean Peninsula," the Foreign Ministry said on its Web site (www.fmprc.gov.cn) seen on Sunday. In the Saturday night phone call, Li also said that maintaining the peace and stability on the Korean Peninsula was in the interests of all the involved parties.

"Rice had expressed her concern on the latest development of this issue and hoped the six-party talks could be resumed," the statement said.




Today's Top News
Top China News

China will push for N.Korea 6-party talks




Japan action violation of Chinese sovereignty




Car bomb kills 17 outside Iraqi hospital




100 Chinese cities lift 10-year firework ban




Gov't adjusts economic growth projections




President visits villagers in minority region