Yao Ming gets record votes for All-Star game
(Agencies)
Updated: 2005-02-04 09:36
Yao Ming of the Houston Rockets received a record 2,558,278 votes in winning the starting spot at center for the NBA's Western Conference All-Star team for the third straight year.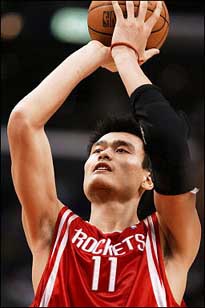 China's giant centre Yao Ming, seen here in 2004, continues to lead the balloting for the National Basketball Association all-star game, receiving 2,558,278 votes in the last returns announced. [AFP]

He will line up alongside Minnesota's Kevin Garnett, Tim Duncan of San Antonio, the Los Angeles Lakers' Kobe Bryant and Houston's Tracy McGrady at the All-Star game on Feb. 20 in Denver.

Shaquille O'Neal's 2,488,089 votes were the second highest in All-Star balloting history, the NBA said on Thursday in announcing the starters.

The previous record was 2,451,136 for Michael Jordan of the Chicago Bulls in 1997.

Grant Hill of the Orlando Magic edged the Indiana Pacers' Jermaine O'Neal by slightly more than 65,000 votes for a starting spot on the Eastern Conference team for the 54th version of the league's showcase event.

Hill received 1,497,489 votes in fan balloting to O'Neal's 1,432,438, allowing him to join Shaquille O'Neal, Allen Iverson, Vince Carter and LeBron James as the starting five for the East.

More than 6 million votes were cast in worldwide All-Star balloting, a 14 percent increase from a year ago, the NBA said.

Shaquille O'Neal will be a starter for the first time since 2002 after being outpolled by China's Yao the past two years when both were in the Western Conference.

"If you look at how he got all those votes, it's not difficult,'' O'Neal said.

"You can't compete with that, because where he's from, there's a billion people. I don't know how many people there (are) where I'm from. All them billions probably love him over there. They don't love me over there.''

James, the Cleveland Cavaliers' 20-year-old phenomenon, will be the only first-time All-Star among the 10 starters. Shaquille O'Neal was selected to his 12th All-Star team, Garnett to his eighth; Bryant, Duncan and Hill to their seventh, Carter and Iverson to their sixth, and McGrady to his fifth.

Hill, sidelined for most of the past three seasons after undergoing four surgical procedures on his troublesome left ankle, was selected an All-Star for the first time since 2001.

"It's amazing. I haven't expected any of this. I was just trying to concentrate on coming in and being healthy and not judging myself or looking at any personal goals,'' Hill said.

"I've been a little shocked at all this, all the love and attention - and I'm thankful for it.

"It is an honor. It makes you feel good. Getting the love from the fans is a great feeling, because they ultimately support us and support our league,'' Hill said.

Jermaine O'Neal, a starter for the East All-Stars a year ago, missed 15 games earlier this season after being suspended for his part in a brawl with Detroit fans at a November Pacers-Pistons game. He is averaging 26.2 points and 9.3 rebounds, while Hill is averaging 18.9 points, 4.5 rebounds and 3.6 assists.

All-Star reserves, selected by the league's coaches, will be announced on Tuesday.

Each coach must vote for seven players - two guards, two forwards, one center and two others - from the other teams in his conference.

Stan Van Gundy of the Miami Heat will coach the East team, while the West will be led by the coach of the team with the conference's best record following Sunday's games.

San Antonio's Gregg Popovich and Phoenix's Mike D'Antoni are the leading candidates.




| | |
| --- | --- |
| | |
| Spurs vs Lakers | |

| | |
| --- | --- |
| | |
| Sharapova in Pan Pacific Open | |

| | |
| --- | --- |
| | |
| Women's Soccer: China 0-2 Germany | |
Today's Top News
Top Sports News

College girls step into beauty controversy




Trains take the holiday travel strain




RMB no scapegoat for US woes




Japan to talk about end of China loans - media




US general: it is 'fun to shoot some people'




Female journalist kidnapped in Baghdad