Vietnam reports two more bird flu infections
(Xinhua)
Updated: 2005-01-24 10:59
A 36-year-old man from Vietnam's northern Thai Binh province has just been found to have contracted bird flu virus H5N1, while a woman who died on Jan. 21 was confirmed to be infected with the virus, raising the total number of bird flu infections in the country to 10.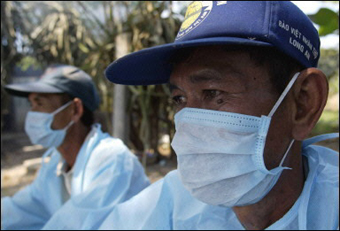 Farmers watch a culling pit where thounsands of their sick chickens are destroyed in the southern province of Long An. Bird flu has claimed two more victims in Vietnam, alarming authorities and international experts as the toll from the disease mounts, with five deaths announced in the past four days. [AFP]

Samples from the patient named Hung, who is receiving treatment at the Tropical Disease Institute in Hanoi capital city, were tested positive to H5N1, local newspaper Pioneer on Monday quoted Vietnamese Deputy Minister of Health Tran Chi Liem as saying.

Earlier, samples from Hung's two brothers were also tested positive to the virus. The tests were made by the National Hygiene and Epidemiology Institute. The three brothers ate duck and a dish made from duck's raw blood at a local market on Dec. 29, 2004 before exhibiting symptoms of bird flu.

The 47-year-old brother named Nguyen Huu Viet died on Jan. 9 at the Tropical Disease Institute in Hanoi. The 42-year-old brother named Nguyen Thanh Hung, who spent some time looking after his elder brother, was admitted to the institute on Jan. 13. The 36- year-old brother received medical checkups at the institute last week.

Nguyen Thanh Hung, who lives in Hanoi, and his younger brother, who lives in Thai Binh, now are under treatment at the institute. They are in stable health conditions.

The 35-year-old woman from southern Dong Thap province was admitted to the Hospital of Tropical Disease in Ho Chi Minh City on Jan. 20, and died on the following day. She did not slaughter or eat sick or dead chickens, but she often had a bath in a canal which contained dead fowls, her relatives said.

Among the 10 cases of bird flu infection, eight had died. Among the dead, seven were from the southern region and one from the northern region. The first case amid the recent outbreak of bird flu in Vietnam was reported on Dec. 28, 2004.

Since January, bird flu has stricken 404 communes of 25 cities and provinces nationwide, killing and leading to the forced culling of more than 557,600 fowls, according to the Department of Animal Health.




Today's Top News
Top World News

FM: 8 freed hostages now in embassy, coming home soon




Mayor sets out Olympic pledge for 2005




1.2 mln applicants crowd into exam rooms




Giants India, China to discuss strategic issues




Shanghai plans 1 billion yuan space city




Women master men... and their wallets