Terror tip involving Chinese seen as revenge
(Agencies)
Updated: 2005-01-22 14:25
The tipster who told federal officials about a potential terrorist plot involving Chinese and Iraqi immigrants may have fabricated the story out of revenge, a federal law enforcement official said Friday.
The official, who spoke on condition of anonymity, said the tipster may have been angry because a group of illegal immigrants had failed to pay for smuggling them into the country.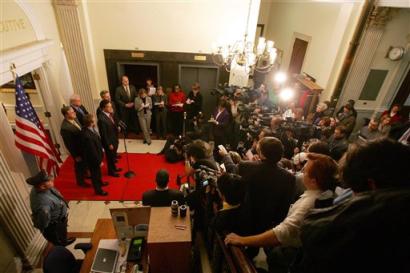 US Massachusetts Gov. Mitt Romney, close to microphone, who skipped President Bush's inauguration to return to the state after learning of a terror threat, speaks during a news conference outside the Statehouse office in Boston, Thursday, Jan. 20, 2005. Romney says there is still no basis for undue alarm or concern over the reports of terror suspects who may be headed for Boston. [AP]

That scenario is one of many being examined in the case, said the official in Washington, who declined to describe other theories being explored.

FBI agents have been looking into an uncorroborated tip that 16 people might be planning an attack on Boston. They include 13 Chinese nationals, two Iraqis and a man identified on the FBI's Web site as Jose Ernesto Beltran Quinones, whose nationality was not given.

Governor Mitt Romney said Friday that he has become "less concerned, not more concerned" about the threat since it was first reported Wednesday.

The original tip was received by the California Highway Patrol, according to another federal law enforcement official in Washington who also spoke on condition of anonymity. The tipster claimed that four of the Chinese two men and two women entered the United States from Mexico and were awaiting a shipment of "nuclear oxide" that would follow them to Boston.

Several radioactive compounds take form as oxides and could be used in a dirty bomb, said Charles Ferguson, a science and technology fellow at the Council on Foreign Relations in Washington. Plutonium and americium oxides, in the right amounts, would be dangerous to human health, while uranium oxide would be less so, Ferguson said.

Security was increased in Boston, where two of the planes were hijacked for the Sept. 11 terrorist attacks.




Today's Top News
Top World News

FM: 8 freed hostages now in embassy, coming home soon




Mayor sets out Olympic pledge for 2005




1.2 mln applicants crowd into exam rooms




China and India launch first strategic dialogue




Shanghai plans 1 billion yuan space city




Women master men... and their wallets